Cardrona Mountain Biking
The summer months are always a special time in New Zealand. With much of the world stuck firmly in the midst of winter, tourists flock to the Land of the Long White Cloud for the hot season and all the opportunities for fun it offers. Locals, too, make the most of their country's numerous summertime activities.
Planning how to spend your summer in New Zealand? Come explore Cardrona Alpine Resort, New Zealand, where there's something to suit everyone. Take a look at the adventures on offer, and start gearing up for a fantastic NZ trip right now.
The Cardrona summer season runs from around the 11th of December until the 5th of April. Opening days for the bike park are from 10 am - 4 pm daily, with late-night Fridays open until 8 pm.
Keytag Bonus: Take 15% Off Cardrona Summer Activities as shown below when you present your Omega Keytag!
Transport to the area
You can't beat the Cardrona Alpine Resort, NZ, for adventure activities near Queenstown. The Cardrona Resort is located right in the middle of the Southern Alps and is an easy 58km drive from Queenstown or 34km from Wanaka. There's plenty of parking at Cardrona, so an Omega Rental Car is the ideal way to get there. But if you don't have your own transport, you can take a shuttle from Cardrona Valley for $10 return. If you're planning on mountain biking at the Cardrona Bike Park, there's even room for your mountain bike on the trailer, if necessary.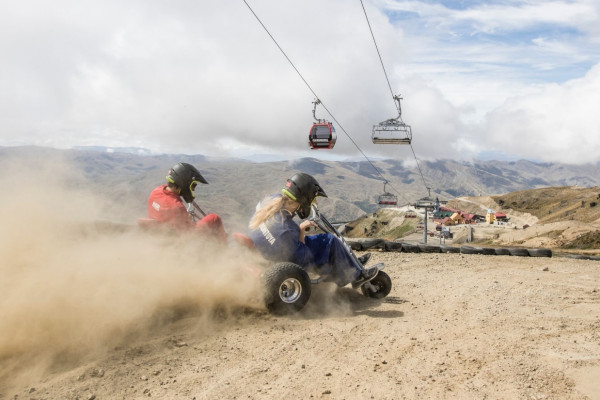 Two visitors enjoying carting down the sunny, sandy mountain under the gondolas. Image credit: Cardrona Alpine Resort
Mountain Carting
Adrenaline junkies visiting Queenstown will love mountain carting. This activity involves riding downhill at hair-raising speeds on three wheels. The carts are sturdy and safe, perfect for adventure, with a range of sizes to suit all visitors.
Your whole group - from your mates to the very youngest member of the family (who can ride with an adult) to grandma and grandpa - will love riding in these easy-to-use vehicles. Cardrona's mountain carting track features three incredible trails of varying difficulty levels, so riders can choose to race their friends or family or set themselves a goal to conquer all three trails. Two hours of mountain carting, including lift access, costs $135 per adult and $75 per child* aged 8-14 years (as of 2022).
*Child riders must be 8yrs+ to mountain cart as single riders. Younger carters may be able to ride tandem with an adult. Maximum rider weight 110kg.
Keytag Bonus: Take 15% off NZ Mountain Carting when you present your Omega Keytag!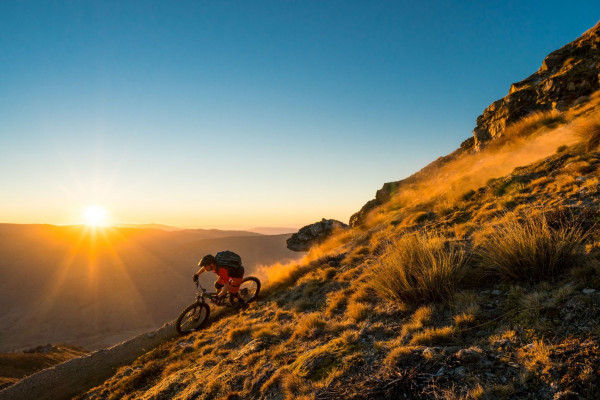 A mountain biker rides down a dusty trail with the glowing sun as a backdrop. Image credit: Cardrona Alpine Resort
Mountain Biking
There's nothing like hopping on your bike in summer and feeling the breeze against your face as you whiz past incredible scenery. And Cardrona Bike Park – the highest bike park in NZ – is the perfect place to do it. With 25km of mountain biking trails and incredible terrain, riders of all ability levels will have the time of their lives here.
Mountain bike lift passes
Planning on bringing your own mountain bike to Cardrona bike park? Make the most of the fantastic bike trails and make your life easier by grabbing a lift pass. There are plenty of options: a half-day pass costs $59 for adults and $45 for children 6-14 years old (kids five and under are free). A full-day lift pass costs $79 for adults and $50 for children. Multi-day rates are also available so that you can ride more for less!
Adults and children pay only $45 for a Cardrona lift pass between 4-8 pm on a Friday.
Mountain bike rental
Those who don't have their own bikes won't miss out on any Cardrona mountain biking adventures! Instead, visitors can rent a mountain bike from the Cardrona Resort. You'll find one available to suit all your needs, and every rental bike comes with a safety helmet, goggles and knee and elbow pads. For a full-day adult mountain bike rental, visitors should expect to pay from $90 to $115 depending on the type of bike, while half-day passes cost from $60 to $85.
Bike school
Whatever your ability, the Cardrona Bike School can help you get the most out of your day traversing the mountain trails and steep terrain. The full package includes ALL DAY mountain bike rental, an ALL day lift pass, and 2-hour private coaching. Their certified instructors can coach the fundamentals of bike position, braking, cornering, lift riding & trail selection. The package starts from $225 for adults and $195 for children. The Bike School also offers 2-hour coaching sessions for riders who do not require the full package but may be a beginner who wants some guidance. You'll learn to ride jumps, tackle the diverse terrain and prepare to ride the new 'mile-high club' jump line or take your riding to the next level on technical trails. The choice is yours with this 1-1 bike tuition. Available from $120.
Mountain Bike Lift Pass and Rental
If you're confident in your mountain biking skills but won't be bringing your own mountain bike to the Cardrona Bike Park, stop at the Cardrona Resort and ask about the Lift Pass and Mountain Bike Rental deal. Cardrona Alpine Resort, New Zealand, offers lift pass packages with either full-suspension bikes or performance downhill bikes.
Cardrona Alpine Resort offers a rental fleet of bikes from Trek, including the Trek Remedy 8 and Session 8 models. The Cardrona Bike Park lift pass and mountain bike rental package is only for confident, non-beginner mountain bikers who do not need any lessons but do not have a bike. Want more information about this package or any other exciting summer activity deals? Then contact Cardrona Alpine Resort via email or phone, or visit their Wanaka office to chat with the friendly team.
Keytag Bonus: Take 15% off full-day Mountain bike lift passes when you present your Omega Keytag!
The Iconic Peak to Pub Trail
The Cardrona Peak to Pub trail is open daily to ride the lower Cardrona Bike Park trails and join the historical "Persecution Road". You'll follow the 10km trail down to the Cardrona Hotel, covering 1270m of vertical descent. Catch the shuttle back up for more laps and enjoy some food and a beer to end your day. Some mountain biking experience is essential to participate in the Peak to Pub trail.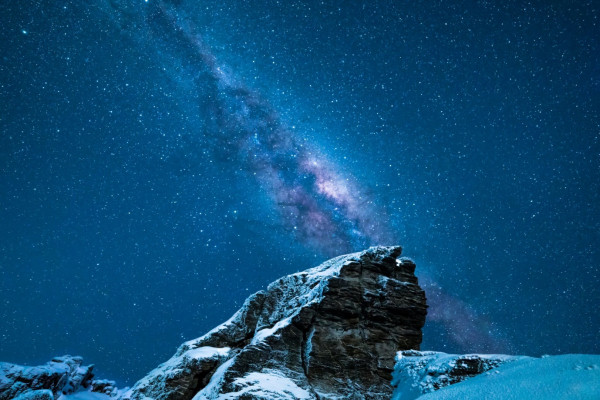 Glowing blue evening winter sky filled with stars. Image credit: Cardrona Alpine Resort
Stargazing
Cardrona Alpine Resort, New Zealand, is the perfect place to watch the stars, thanks to its location, which is affected by minimal light pollution. Would-be astronomers can take an exciting tour during the summer months, in which they'll first learn about the night sky from an expert who will focus on how it looks in this part of the world. They'll then have the opportunity to use a telescope to explore specific formations in the sky, including the rings of Saturn, star clusters and nebulae, the moons of Jupiter, and other galaxies, all under the guidance of their tour guide.
The stars you'll be able to see will depend on visibility, but thanks to the dark Cardrona sky, visitors will rarely miss much! The stargazing tour is $120pp and includes 1.5 hour guided naked-eye and telescope observation and light refreshments. Canada Goose down jackets are provided to keep you toasty. A night out in NZ doesn't get much better than this!
Keytag Bonus: Take 15% off Stargazing when you present your Omega Keytag!
Walking and hiking
ALPINE GONDOLA RIDE
Love picturesque views? What about the novel experience of travelling in a cabin up the mountain rather than trekking through rugged terrain? Then, don't miss Cardrona's gondola ride! Your cabin lifts you right to the top of the mountain peak so you can snap the ultimate Instagram shot with the Southern Alps as your backdrop.
WALKING
Following the gondola ride, visitors can take a quick walk to the Cardrona Resort's viewing platform, boasting gorgeous 360-degree views over the Southern Alps and Lake Wakatipu. Avid hikers are in luck, too; the Captain Circuit's alpine terrain is a little more challenging and the perfect way to spend a summer afternoon in nature. In addition, the mountain's informative panels will interest any NZ history enthusiasts visiting the mountain - providing visitors with key information about the area's past.
SIGHTSEEING LIFT PASS
Check out the gorgeous scenery from a view at heights! A Cardrona sightseeing and walking pass costs $35 for adults and $25 for kids.
Eating and drinking
There's no chance of going hungry at Cardrona. The Lounge Café, open from 8 am, is the perfect place to drop in for a coffee or a snack before or after your day hitting the bike park trails. The café is also home to several outdoor games, such as dominoes - perfect for the kids (and kids-at-heart).
If you're more interested in fun cold-weather activities, or if you've arrived in New Zealand in the off-season, Cardrona also has plenty of attractions to make your winter in NZ spectacular. Skiing and snowboarding are the primary attractions during this season, but depending on the weather, snow enthusiasts can also try tubing, which is sure to be a thrill. Weather permitting, you could take a walk along the trail leading to the highest point in the Cardrona Resort to experience the full magnificence of the Southern Alps. Or, just take the gondola to the peak for incredible winter views when there's snow for miles.
Whichever season you pick, there's no doubt that Cardrona Alpine Resort is the place to go if you're interested in some of the South Island's most stunning adventure activities.
When you collect your rental vehicle from the Omega Rental Cars Queenstown branch, you'll be within a 1 hr 17 min drive from the Cardrona Resort and bike park, or just over an hour's drive if you're coming from the Omega Queenstown Airport branch. With an Omega rental car, you'll also have the freedom to travel wherever you want in New Zealand, whenever you want – with a brilliant selection of local attractions to choose from, including the Shotover Canyon Swing and the Queenstown Ice Arena.