Auckland Shopping
Did you know Auckland is New Zealand's largest urban centre and the world's third most liveable city? Then, it may come as little surprise that Auckland city shops are world-class - enjoy second-to-none shopping fun, whether you're organising a girls' weekend away or are planning a trip with the lads. This city's impressive hole-in-the-wall shops and large department stores are sure to fit the bill when you're shopping in Auckland.
Hire a car from Auckland rental car, and grab an incredible deal when you book online. Just make sure your rental car has a big boot!
Newmarket
But Queen Street and High Street by no means exhaust your options for shopping in Auckland. Head to the Newmarket area for some of the best shopping around—less than a 10-minute drive from the City Centre. Between Nuffield Street and Teed Street, you'll find many local boutiques, such as Andrea Moore, Barkers, and Birkenstock.
Nearby is Osborne Lane, where you can browse top fashion designers, including Karen Walker, Kate Sylvester, and Juliette Hogan. You'll also find a Westfield centre, so men, women, and kids alike are catered to.
What's more, Newmarket is undergoing further upgrades all the time. This means there'll be new designer stores, souvenir shops, gift shops, or pop-ups to explore each time you return.
If you like the sound of Newmarket, then you'll love Britomart—an exclusive shopping centre in Auckland. Enjoy leading designers, heritage buildings, and amazing cafes all in one compact space.
Ponsonby
And if you're shopping a bit further from the Auckland CBD, check out the city's "hippest strip", Ponsonby Road. Shop hipster-appropriate clothes at edgy streetwear stores (think white spaces, wooden floors, and linen clothing).
Take your time to explore these exciting shopping precincts! Uncover these high-street stores one by one. Enjoy world-class designer brands, electronics, jewellery, art, and homewares.
Parnell
Want to know where to shop in Auckland for home décor, luxury furniture, fabrics, or in-home accessories? This Auckland central suburb has it all, and it's just 3kms from Auckland CBD.
Looking for Auckland boutiques and gift shops? In Parnell, you'll find the largest collection of authentic, Kiwiana & NZ-made gifts and souvenirs at reasonable prices.
Love art galleries? Spend the ultimate day discovering artworks by world-renowned international and local artists. Interested in a spot of jewellery shopping in Auckland? You'll find rare, bespoke and collectible New Zealand jewellery in Parnell.
Sylvia Park
Sylvia Park is a great place for shopaholics and people who thrive in busy places. As one of New Zealand's largest shopping malls, it's home to over 200 stores, including the country's only Zara and H&M's flagship store.
Located 12kms southeast of the Auckland CBD, shoppers will find every type of store. Shop clothing, makeup, homewares, shoes, accessories and gifts, and take a delicious bite to eat and rest in a range of cosy cafes and restaurants. There's a cinema in the mall too!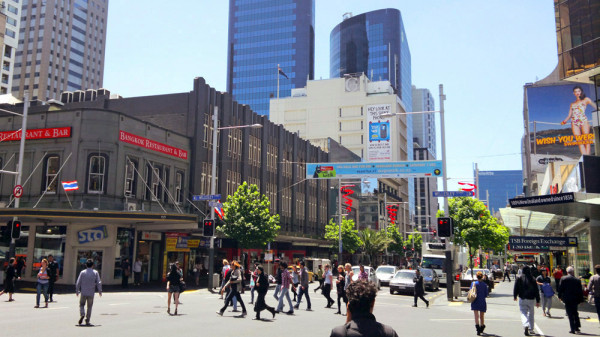 Image: Google
Queen Street
You can't possibly get the full experience of shopping in Auckland City if you don't factor Queen Street into your plans. This major thoroughfare enjoys the highest levels of foot traffic in New Zealand. Not only is it lined with a multiplicity of restaurants and other attractions - this shopping district also offers an intriguing mix of international brands, eccentric stores, and boutique shops.
If designer fashion is your bag, set your sights on lower Queen Street. Here, you'll find high-street brands like Louis Vuitton, Gucci, and Chanel. Not to mention established New Zealand fashion designers like Trelise Cooper. Smith and Caughey's—Auckland's best-loved department store—also lives here. Browse their extensive range of stylish women's and men's clothes, foodstuffs, and homewares.
Better yet, late-night shopping is on every Thursday and Friday down the length of Queen Street. So prepare to shop your heart out, well into the night. Also near the heart of the city is the High Street district. Renowned for its real cosmopolitan shopping vibe, it's a great place for a coffee break between shops.
Onehunga
The Dress Smart outlet shopping centre in Onehunga is 10kms south of downtown Auckland. Explore over 100 local and international clothing, homeware, footwear, and accessory brands. Enjoy incredible savings by shopping at Auckland factory outlets such as UGG, Kathmandu, and Converse.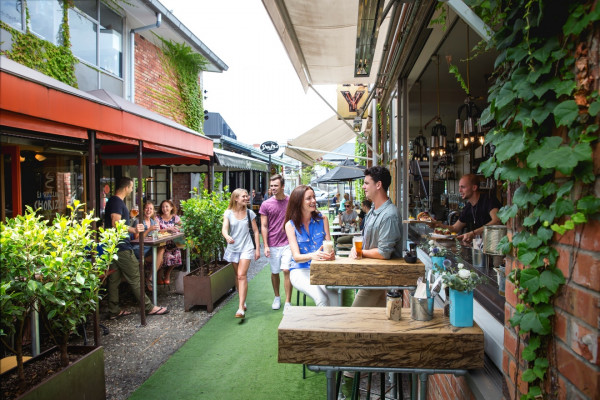 Shop around with Omega rental cars
Get the most from your visit and enjoy shopping in Auckland anywhere you like, when you hire a rental car from Omega's Auckland Airport or city centre branches. At Omega, our incredible car rental prices will leave you with more money to spend at the shops in Auckland! We guarantee that the rental price listed is the price you'll pay—with no hidden charges. Our rates are inclusive of standard insurance, unlimited kilometres, and GST. So make your booking online and grab an unbeatable deal now!