Things to do in Queenstown in Winter
Most towns go dormant in the winter months, but Queenstown is not one of those. Indeed, over the last fifty years, this thriving resort town has emerged as one of the Southern Hemisphere's leading tourist attractions when it snows. Not least because of its stunning wintry topography – the Remarkables really are as gorgeous as they look in photos – Queenstown is a mid-Winter hub for all things snowy and cosy.
Our Top Iconic Activities to do in Queenstown
The following winter holiday activities will keep you more than occupied for your visit to Queenstown.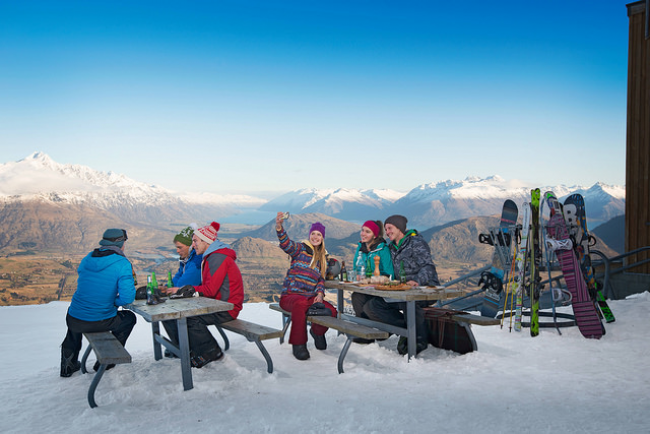 Photo by: Roderick Eime on Flickr
Winter Skiing and Snowboarding
Looking for the best slopes for skiing or snowboarding in Queenstown? Our location in the Southern Hemisphere means we have an extended ski season – especially attractive for tourists from the Northern Hemisphere seeking year-round winter sports.
Queenstown well deserves its title as the snow capital of NZ. Situated in the heart of the Southern Alps, the region is bordered by four different ski fields. Of these fields, Coronet Peak is the closest to the centre of town, is great for total beginners and is a popular spot to enjoy night skiing on Fridays and Saturdays. The next closest is the Remarkables mountain range, where you can digest one of the country's most beautiful wintry vistas while traversing the slopes. Cardrona Ski Resort, still only an hour away from the township, is also an excellent park for new learners, and last but not least, Cardrona is a well-loved first port-of-call for more advanced skiers.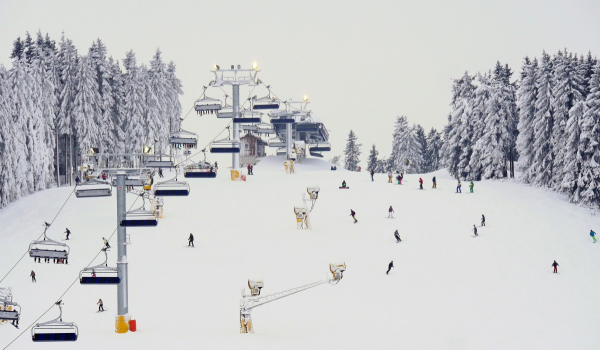 Photo by: Pxhere
Seeing Queenstown's Gorgeous Views
Winter in Queenstown is truly a photographer's dream. Queenstown's selection of helicopter flights is one of the best things to do in Queenstown in winter. Many operators offer winter flights around the Remarkables and other beautiful sights in and around Queenstown. A scenic return flight over snow-capped peaks will be a truly unforgettable experience that you can't – and won't want to - erase from your mind.
Scenic drives are another fun way to explore the beauty of the South Island of New Zealand. Jump in your Omega rental car and visit Milford Sound. Then, take a scenic boat cruise to discover dense rainforest, snow-capped mountains, glacier-carved valleys and waterfalls. A road trip to Milford Sound and back can be made in one day.
Take the iconic Skyline Gondola on Brecon street for the best vistas over central Queenstown. Soak in the breathtaking city and mountain views as you journey 450 metres to Bob's Peak. While you're there, head to the gift shop to find the perfect New Zealand-made souvenir. Then, stay to watch the sunset and enjoy a coffee or afternoon tea at Market Cafe or a delicious buffet dinner at Stratosfare Restaurant and Bar.
Visiting Queenstown for Relaxation?
And for the end of a long day on the peaks or in the air, how about a relaxing soak in your own private hot tub with incredible views? Pencil in a day trip to the Onsen Hot Pools to experience luxurious day-spa relaxation on a cold winter's day with an outlook of the surrounding hills of Arthur's Point. Prime relaxation in a beautiful place: sounds good to us!
Hopping aboard the legendary steamboat TCC Earnslaw is excellent for families to relax and cruise Lake Wakatipu. Looking for wine tours? The Central Otago region produces award-winning Pinot Noir, making it one of the best places to join a wine tour for some incredible wine tasting. But, of course, if beer is more your style, you'll find craft beer tours also available.
Adrenaline Rush Activities in the Winter
Adrenaline junkies will thrive in this winter wonderland with tons of exciting and fun activities for people of all ages.
Visit Queenstown in winter and get your heart pumping with Queenstown's vast array of world-famous adventure activities. Queenstown offers exhilarating bungy jumping, canyon swings, zip lining and jet boating. The most iconic activity is the Shotover Jet boat ride, which takes you speeding and spinning 360 degrees through the rocky ridges of the Shotover River Canyons.
Winter Festivals, Music and Culture
If you're travelling around June, you can't overlook the Queenstown Winter Festival. In past years, the festival has been held in the heart of the city and on its snow-covered mountains - known for top-quality live music, comedy, festival village and top brews. It has been running since 1975 and is worth visiting simply for the collision of cultures and nationalities, making for a fantastic long weekend out for the whole family. Check on the official Queenstown Winter Festival website to see when the festival is running this year.
Easiest Way to See the Top Destinations in Queenstown
We're sure you'll love Queenstown no matter what time of the year you visit. There's always something amazing going on. If you're flying directly into the adventure capital, pick up a rental car from Omega's Queenstown Airport Depot, located 1.1km from the airport. Omega offers a free shuttle service between the airport and the depot. Alternatively, pick up a rental car from Omega's Queenstown town centre depot.