Omega Rental Cars has been providing affordable rental vehicles with fantastic service and great prices for almost three decades. With our long-standing reputation, we are proud to offer a great experience for all visitors renting cars on the North and South Island for business or pleasure.
Deal hunters looking for excellent service and the cheapest rates will find a versatile, modern fleet that ticks all the boxes for their next car hire.
So, if you're taking a road trip or coming to visit family in surrounding areas, we've got great car and people movers hire options to meet your needs. Talk with our team today to find out more!
Can I hire a car from Omega if I'm over 65?
We understand some vehicle rental companies vary in how they treat our most experienced drivers. But, at Omega, we don't discriminate.
Regardless of age, we treat each customer with care and respect. We welcome our most experienced drivers to hire a quality rental car, SUV or people mover, enjoy helpful, friendly service and great rates.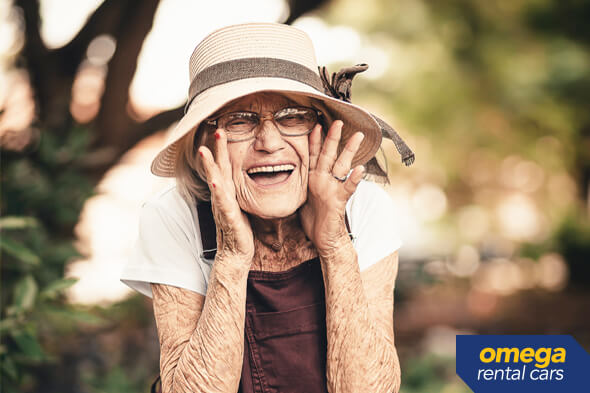 Can I add an additional driver who is over 65?
Yes, you can add an additional driver to your car hire, provided that the driver has a valid full licence.
Can I hire a van or SUV if I am over 65?
Yes, you can select any cars from our range of great vehicles at affordable prices. Book your vehicle hire now to grab a great deal combined with great service!
Do I need a medical certificate to hire a car?
No! If your health is in good condition and do not have an illness preventing you from driving, you can hire an Omega rental vehicle.
What documents do I need to bring to hire a car?
The principal driver will need to present a credit card or debit card, and a valid full driver licence. International visitors will need an international licence and/or an English translation as documentation. You'll also need to show our team your booking details when you collect your vehicle.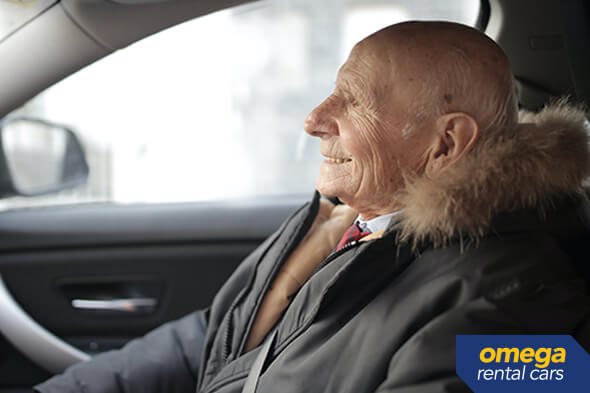 Great reasons to choose Omega
In recognition of our customers who are over 65 years of age, we offer a 10% discount off our Daily Rental Rate to honour our most experienced drivers.
Simply book online and use the promo code 'seniorsaver' to activate the discount. Make sure you present a valid driver licence when you pick up your car rental.
Get in touch with Omega today for great rental deals
Here at Omega Rental Cars, we're proud of our company's solid reputation and "Up Front and Honest" policy. You will always be greeted with helpful, professional service at our branches.
We not only believe in good service, but we also provide budget-friendly, modern vehicle models in excellent condition with unlimited kilometres to help you save money. Plus, we offer some great car hire services free of charge that you won't find anywhere else.
Want to pick up and drop off in a different location? No problem, just phone our friendly, professional staff and they'll advise you of a competitive price.
Contact our friendly team to book your hatch, sedan, SUV or people mover hire at a great price today. We look forward to your visit!