Canyon Swing
Canyon Swing in Queenstown has rightly become a world-famous attraction. This intense, adrenaline-pumping activity will have you swinging into Queentown's spectacular Shotover Canyons at incredible speeds. Home to the world's highest cliff jump, the Shotover Canyon Swing is a unique New Zealand experience guaranteed to get your heart racing. Jump tandem or solo; you won't regret it.
Keytag Bonus: Enjoy a free second jump when you book online at Canyon Swing, use promo code OMEGA (Add Second Swing option to your cart first)!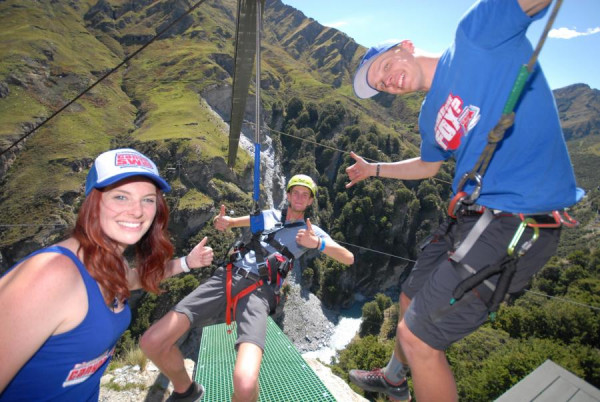 Thumbs up from all three people before a crazily epic leap into the canyon -
Image Credit: Shotover Canyon Swing
Canyon Swing
The Shotover Canyon Swing is achieved by launching yourself from a 109 metre-high platform over the mighty Shotover River. First, the Shotover Swing will catapult you into an intense 200m canyon swing across the river. Then, you'll free-fall 60m, rushing past the steep, rocky cliff face. Canyon swinging offers multiple great jump styles - each is unique and offers its own awesome thrill.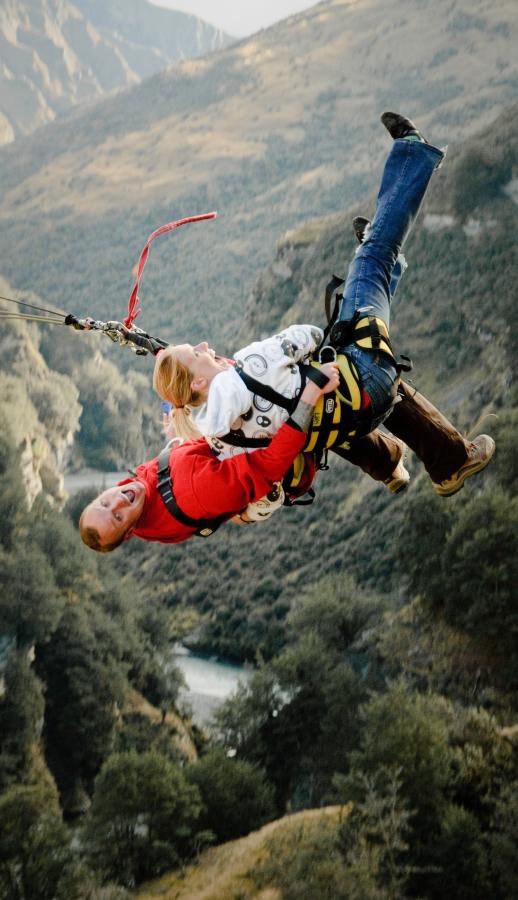 Two thrilled jumpers show off their Backwards Jump Style -
Image Credit: Shotover Canyon Swing
If you're too afraid to do the Shotover Canyon swing solo, you can share the fear with someone else on a tandem canyon swing. Tandem jumps can add great fun to the experience because you can feed off each other's energy (and see who screams louder!).
The friendly and professional staff at Canyon Swing will put you at ease and guide you at your own relaxed pace, so you won't have to worry about being rushed. Whether you're confident or feel nervous jumping, your jumpmasters will ensure you have the most amazing experience possible. The spectacular surrounding scenery will have you in awe as you prepare yourself for the thrill of your life. It's a great experience filled with fun banter from the
The Queenstown Canyon Swing trip takes a total of 2.5 hours. Prices are per person, whether you're doing solo or tandem jumping. Transport is included, so you must check in 15 minutes before your journey starting time. Don't forget to wear clothes that are appropriate for the weather conditions! Remember to wear layers, especially in the mornings on freezing winter days, to keep yourself warm. The dirt tracks can also get quite muddy in the colder months, so gear up with some reliable closed-toe shoes, and you'll be good to go. For visits of small groups, contact Canyon Swing for a tailored price.
Why not enjoy the ultimate experience and book the Canyon Swing Combo? The Canyon combo is sure to satisfy any adrenaline junkie. A Canyon Swing, Shotover Jet boat ride, and a beer tasting paddle or flatbread are included. You'll start with a solo or tandem swing, then an awesome 25min jet boat ride, and finish up at Canyon Restaurant for a well-earned beer or flatbread.
Keytag Bonus: Enjoy a free second swing when you book online at Canyon Swing, use promo code OMEGA (Add Second Swing option to your cart first)!
When you book a rental vehicle with Omega Rental Cars, you'll have the freedom to explore more exciting attractions like the Queenstown Ice Arena and Challenge Rafting. We're in Central Queenstown – just a minute down the street to the Shotover Canyon Swing HQ. So, are you ready for the adrenaline flood of a lifetime? Trips operate daily, so book your visit to the Shotover Canyon Swing today for your next Queenstown, New Zealand adventure!