Omega Wins Canstar Blue Customer Satisfaction Award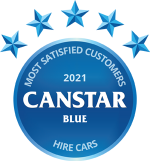 We are delighted to have received the news that we have won the Canstar Blue Customer Satisfaction Award - Hire Cars - 2021!
In our view this is a well deserved win that can be credited to the efforts of our entire team right throughout the country, and we are really proud of everyone.
Well done to all, and thank you to our customers for choosing Omega!
---
Media Release 20 May 2021:
Upfront and Honest Rental Car Approach leads to Top Customer Satisfaction Award
New Zealand-owned rental car company Omega Rental Cars has taken out the top spot in the latest Canstar Blue customer satisfaction ratings. With a clean sweep, a maximum of 5-stars scored in every category, the Omega win was emphatic and the team is delighted!
Omega was awarded the Canstar Blue Customer Satisfaction Award – Hire Cars 2021, based on feedback from a sample of 792 New Zealanders who had rented a car in the past twelve months. They were asked to rate their experience in terms of overall satisfaction, value for money, transparency of cost and fees, availability of vehicle booked, customer service and the booking process.
Omega was the only company to score five stars for overall satisfaction and the only one to score five stars in more than two categories (scoring five stars in all six categories).
Consistent with previous years, value for money remains the biggest driver of satisfaction (26%), but transparency of cost and fees has increased to 22%. Outperforming the rest of the market across all satisfaction variables, Omega Rental Cars has worked hard to live up to their 'Upfront and Honest' tagline. This aspect of their service is clearly important to customers and is reflected in this excellent result.
Canstar General Manager Jose George said, "Our research into car rentals showed Kiwis look for value and transparency in costs. They also want to know their preferred car is available, and to have a positive experience with customer service and the booking process.
"We know Omega delivered brilliantly for its customers, leaving them extremely satisfied at every step. We congratulate Omega for its success."
The local brand came up against competition from the large international brands - Avis, Hertz, Budget and Europcar, as well as Avis Budget Group subsidiary Apex Rental Cars, Hertz owned Ace Rental Cars, alongside Jucy, Ezi Car Rental and Go Rentals.
Simon Sceats, Managing Director of Omega Rental Cars, describes the survey result as "a huge coup for us – just 8 years ago we didn't even feature in the results, because our customers did not form a large enough sample size to qualify, now here we are – we have taken out the top spot!"
"Achieving this result is a validation of the work of our entire team. It is recognition of the work put in by our managers, customer service representatives, car groomers and shuttle drivers at all our branches nationwide; our fleet operations staff, call centre team, marketing, accounts, health and safety, all of us. Everything we do has gone towards this result."
Sceats says the award is a vindication of the company's "upfront and honest" approach, which they have consistently implemented for over 25 years. "Some companies come up with a new tagline or marketing angle frequently, whereas Omega has solidly adhered to the same approach year in year out since inception. We place huge store in customer feedback, both in person and via online reviews, and we have used this information to continually improve our processes and deliver on our upfront and honest promise, throughout our 25+ year history.
The Canstar award rates all the areas of our business we have worked on, particularly the ease of the booking process and ensuring that we provide what our customers have booked, transparency of cost and fees, plus our customer service."
In an industry that was badly affected by the global Covid-19 pandemic in the 2020-2021 year, the Canstar Blue win is a testament to the way Omega responded to that crisis. Says Sceats, "many hires were extended at minimal cost giving customers who were trapped due to lockdown breathing space when they were unable to return vehicles. Others cancelled or postponed their booking with no penalty. It wiped out all our forward bookings, but we knew in time they would be travelling again, and our priority was to treat people fairly in this unprecedented situation."
With forward bookings now stronger than they have ever been, it is onwards and upwards for this Kiwi company.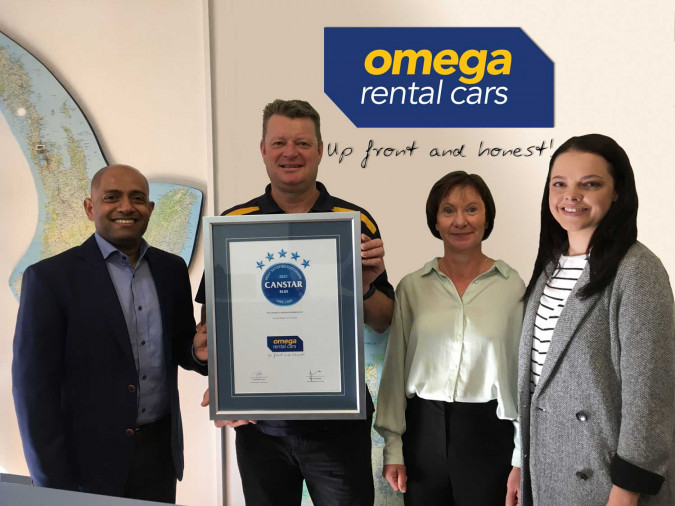 Jose George, General Manager, Canstar New Zealand; Simon Sceats, Managing Director, Omega Rental Cars; Angela Hallberg, Marketing Manager, Omega Rental Cars and Anne-Marie Lewis, Market Co-ordinator, Canstar New Zealand