Visiting Te Puia
Rotorua is a magical city on the shores of Lake Rotorua in the Bay of Plenty in the North Island of New Zealand. There are many great things to do in Rotorua as it is a major tourist destination, and its geothermal activity, geysers and mud pools are incredible. Rotorua is also steeped in Māori history and culture. There is no better place to witness both the natural wonders of the area, and learn about Māori ancestral history, than Te Puia. Te Puia is a living Māori cultural centre set on 60 hectares of land only five minutes from the centre of Rotorua, in the Whakarewarewa geothermal valley.
Te Puia Springs is one of the best Rotorua tourist attractions. Not only does it boast the New Zealand Māori Arts and Culture Centre it also has a live Kiwi enclosure, it is home to the magnificent Pohutu Geyser and contains over 500 natural geothermal wonders.
The magnificent Pohutu Geyser at Te Puia (Photo credit Te Puia)
If you want to find out more about the culture of the Māori people of New Zealand, a visit to Te Puia is a great place to begin. The entrance of Te Puia sets the scene, as twelve celestial guardians watch over you. One of the must do Rotorua attractions is to take a guided tours at Te Puia, with all the tours departing from this majestic entranceway. You will hear stories of the Te Arawa ancestor's arrival to New Zealand and Rotorua. Māori have been living in this area of New Zealand for almost 700 years, and at Te Puia you will learn how incredibly important the connections between the people and the land has been since the very beginning of Māori settlement. You will discover how Māori people have used the geothermal areas for cooking, preserving food and bathing. They also used the magical environment to develop paints and dyes.
You also have opportunities to visit traditional carved meeting houses and witness the extraordinarily intricate structures carved using traditional methods.
Te Puia is home to The New Zealand Māori Arts and Crafts Institute. Many traditional art forms have been preserved and passed on to new generations of artists from all over New Zealand because of the amazing work of this institute. You can observe master wood carvers, stone and bone carvers and flax weavers create stunning artworks and garments right in front of you.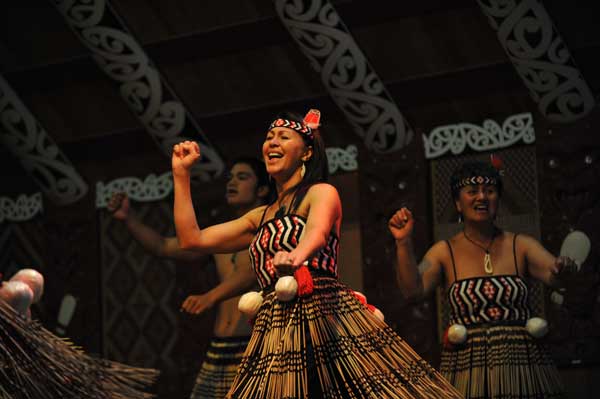 One of the many incredible Maori cultural performances in Te Puia (Photo credit Te Puia)
Located at Te Puia is also the famous natural wonder, the Pohutu Geyser. You can walk upon the earth, where legend has it, that goddesses breathed fire and come you come face to face with the awesome power of the geothermal activity that Rotorua is so blessed with. The Pohutu Geyser is the largest active geyser in the southern hemisphere and it is an experience of magical proportions. You will love the sights and sounds of the geyser as it erupts to a height of 30 metres, 20 times a day. The Pohutu Geyser is just one of many geothermal wonders at Te Puia (there are six others in the area). You will also get to see bubbling mudpools within the Whakarewarewa thermal valley too. You can discover ancient cooking techniques used by Māori at Ngaratuatara, a natural cooking pool.
Te Puia has a nocturnal enclosure so you are able to see the New Zealand iconic bird, the endangered kiwi, foraging for insects. These flightless birds are truly unique. You will learn about conservation efforts to protect these beautiful creatures. As you are guided around Whakarewarewa you will also be introduced to the amazing flora and fauna of the area.
Te Puia truly is a Roturua tourist activity that will immerse you in incredible sights, sounds, history and culture. You will be entranced by the magic of the area. So many attractions in one place, and only five minutes away from the city centre of Rotorua. To get to Rotorua from Auckland, pick up your Auckland rental car from Omega's Auckland Airport or City Centre branches and enjoy the scenic drive along state highway 27.