Top of South Island Loop - Bluebridge Ferry Wellington to Picton, Marlborough and the rugged West Coast
A roller-coaster flight journey into Wellington, New Zealand in the pouring rain and 80 km/h winds wasn't on the original itinerary for our family mid-year holiday. Still, it certainly added a bit of drama! It was one of those flights where the Jetstar pilot came out and took a bow once we were safely on the ground. We thanked him most gratefully for his expertise!
We spent a damp afternoon in the city of Wellington visiting the old Wellington Museum in the Bond Store on the Waterfront, taste-testing craft beers at Fortune Favours, and enjoying the rugby and traditional Irish pub grub at D4 on Featherston. No complaints from the family about this part of the plan, at least. The only fly in the ointment continued to be the weather, which had deteriorated to the point that a state of emergency was declared for the Buller Region. Roads in and out of Picton were closed due to flooding and slips, and inter-islander ferries were temporarily halted! Were we even going to get to the top of the South Island this holiday?
We needn't have worried. Sunday brought much better weather, roads reopened, and ferry sailings resumed – excellent! Something you can count on in New Zealand - four seasons in a day.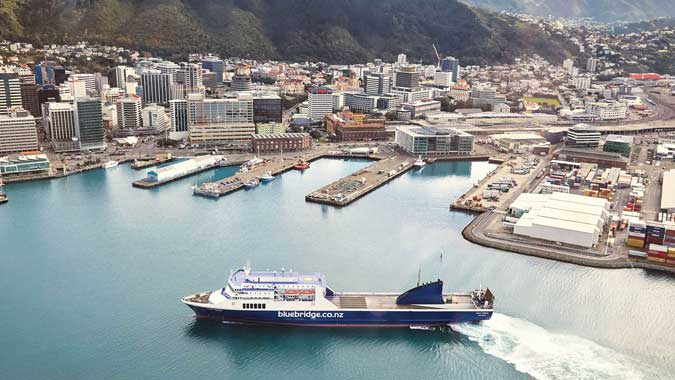 Wellington Waterfront, Photo Credit: Bluebridge Cook Strait Ferries
Bluebridge Cook Strait Ferry - Wellington to Picton
The Bluebridge Cook Strait Ferries are an alternative to the better known and larger Interislander. Both provide a fantastic boat service for transport between the North and South Islands of New Zealand, whether you wish to take a car across, or are simply travelling as a foot passenger or 'footy'. We hadn't crossed the Cook Strait by sea before, so we were looking forward to this experience – and it didn't disappoint.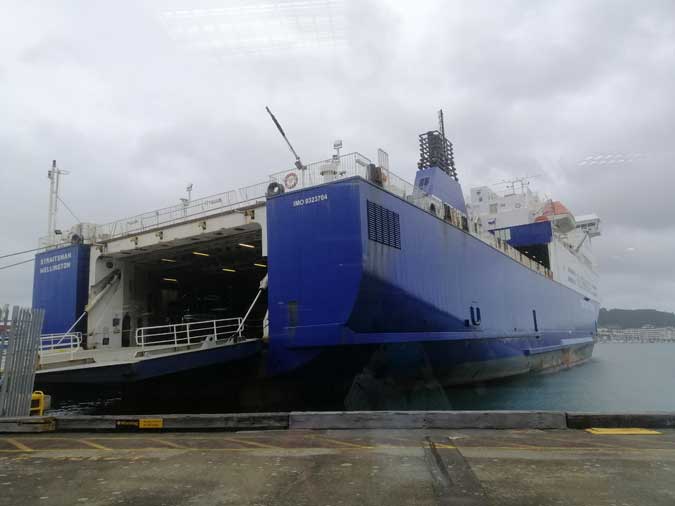 Preparing to load the cars onto the Straitsman, Bluebridge Cook Strait Ferry in Wellington, Photo credit: Omega Rental Cars
After check-in and bag drop off we were entertained in the warm and cosy terminal building watching the trucks backing on to the ship. Rest assured if you are taking your car across, it's a very easy drive on, drive off system with vehicle turning space at the end of the ship.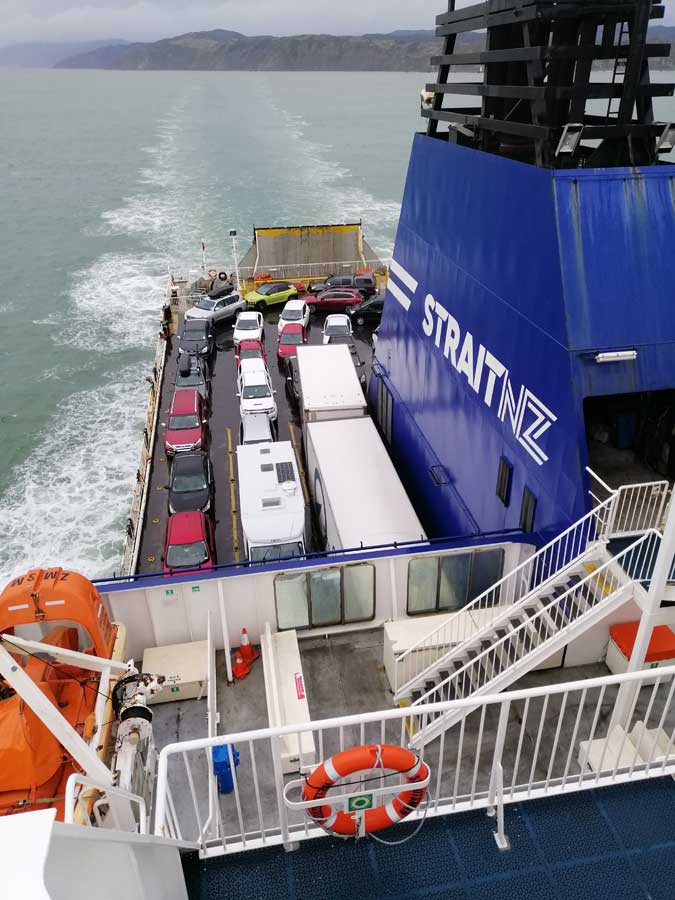 View from the upper deck of the Straitsman – Photo Credit: Omega Rental Cars
The trip across the strait to the top of the South Island of New Zealand was surprisingly smooth. We had booked a cabin which meant we had somewhere to retreat to and leave our carry-on bags, which made it easy to roam the decks of the ship and café! A few larger swells in the middle of the strait soon subsided. Before we knew it, we could see land and even spied the local wildlife (dolphins!) as the ship navigated through the incredible natural environment of the sounds.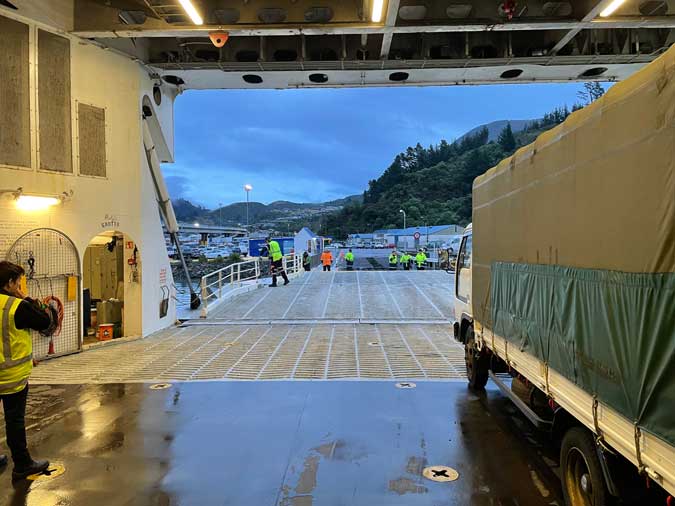 Disembarking in Picton in the late afternoon, Photo Credit: Omega Rental Cars
Foot passengers are the first to disembark on arrival in Picton, known as a gateway for exploring the islands of the world famous Marlborough Sounds, a New Zealand must-see. Checked-in bags are taken care of for you and taken to the terminal building, just a short bus ride away. From there, it is a short walk into town, or the Omega Rental Cars Picton office is directly opposite the Bluebridge terminal building. If your arrival is after-hours, arrangements can be made for your vehicle to be left ready for your collection, making it super easy to rent a car in Picton.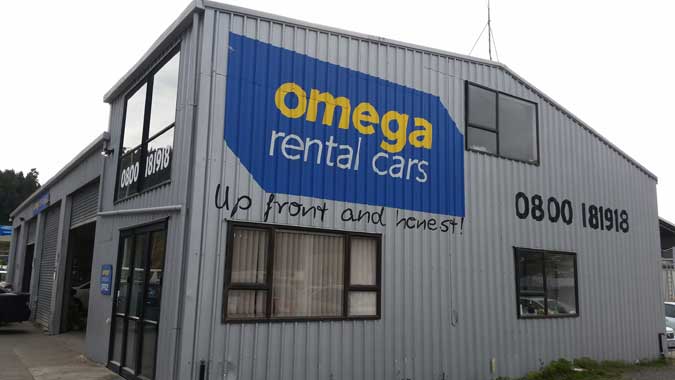 Omega Rental Cars Picton Office – right across the road from the Bluebridge Ferry Terminal in Picton, Photo Credit: Omega Rental Cars
Things to do in Picton
Picton is all about the marina and the waterfront. We had dined the night we arrived at Oxley's Hotel, one of the main ones on the Waterfront area, and were keen to explore further. The marina itself was much larger than we had remembered and is well worth a stroll – we even saw a seal playing in the water!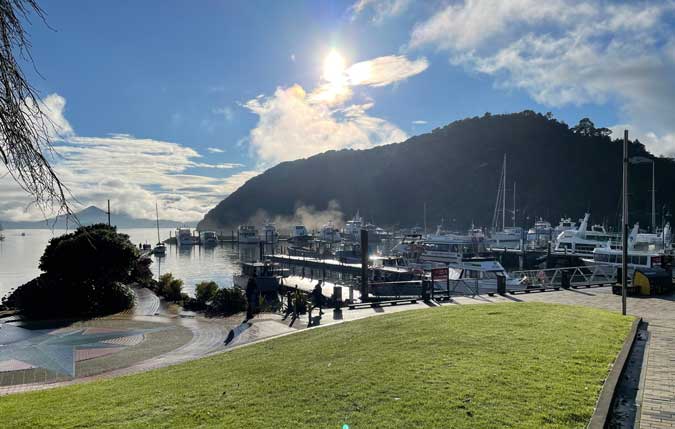 Picton Marina and sheltered harbour from the waterfront, Photo Credit: Omega Rental Cars
The Waterfront area is the place from which to book a myriad of the South Island, New Zealand's best attractions – mail boat cruises of the Sounds, kayak trips, hiking the Queen Charlotte Track, mountain biking, dolphin watching, and more. For a more private and peaceful experience, you can explore and swim in Picton's many secluded bays, including Shelley Beach and Bob's Bay.
Queen Charlotte Track
We definitely intend to return to the top of the South Island to explore the Queen Charlotte Track in the spring. Sweeping views through the sounds from the ferry journey on the way in confirmed that this place needs to be explored - one to add to the South Island bucket list for sure. This great walk stretches 70 km from historic Ship Cove to Anakiwa (of Outward Bound fame) in the Grove Arm of Queen Charlotte Sound and is a 3-5 day one-way tramp. There are mountain-biking, kayaking, and water taxi options, plus the choice of stunning luxury lodges or the rather more basic but very accommodating DOC campsites. As you may have heard, these camping options book up extremely fast at the start of the season, so we might just have to take the more luxurious option!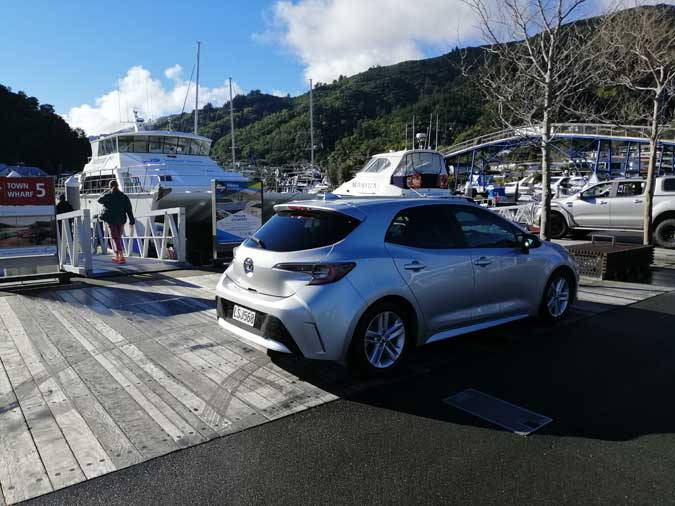 Book a mailboat cruise, dolphin watching or kayak trip and depart from the Picton waterfront. Photo Credit: Omega Rental Cars
Blenheim, Renwick and the Awatere and Wairau Valleys – Visit a vineyard or two!
Blenheim itself is set around a charming square and clock tower, with a river flowing through the town centre. There are many great restaurants and cafes to discover. They have set up a wine station In the newly renovated Blenheim Railway Station building where you can select from over 80 local wines to taste.
As we drove into Blenheim and explored the region, we were stunned by the sheer scale of the grape growing and wine producing industry in this part of New Zealand. I had visited before for the Saint Clair Vineyard Half Marathon, which is a fantastic running event if you are so inclined. One of the most social and fun half marathons in the country, it takes place over a nearly flat course. However, I had forgotten just how extensive the wine-growing region is in this area of the South Island. It really does stretch for miles.
Our Premium Elite Plus - Omega Rental Car
From Picton it's a very easy half hour drive to South Island town of Blenheim, and the Toyota Corolla GX that we had hired from Omega was perfect. There's not a massive amount of luggage space in the back, but it fitted our three medium-sized bags comfortably. Corolla's are so easy to drive and super economical, with enough pep to pass people when you need to. This one was only a couple of years old and was in perfect condition, with built in GPS, reversing camera, lane assist, etc, everything we could possibly want.
Wither Hills Cellar Door & Restaurant
Amateur mistake – a lot of winery cellar doors and restaurants are closed on a Monday, having been open all weekend! Wither Hills was one of the few exceptions and proved to be a great choice – food and setting both divine. The view of the barrel room, through floor to ceiling glass, made for a very scenic trip to the elegant bathrooms!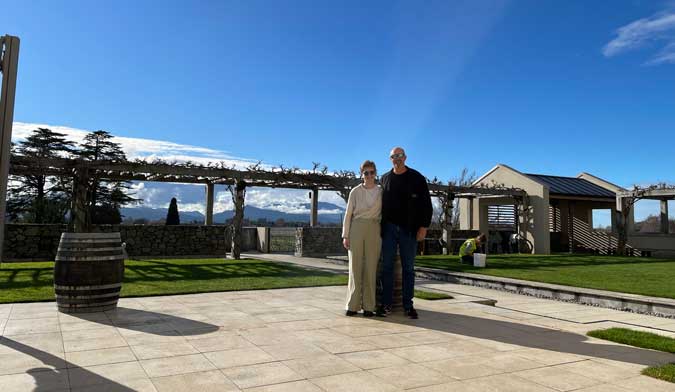 Outdoor dining terrace at Wither Hills Cellar Door & Restaurant in Blenheim, stunning even in mid-winter! Photo Credit: Omega Rental Cars
Yealands Wines
If we had done more homework, we would have discovered that Yealands Wines are also open Friday, Saturday, Sunday and Monday from 10:30am - 4:30pm. We later learned that we should have followed the white road out to their location in Seddon and taken their 40-minute tour. Next time! Their sustainability story is impressive, the tour is fascinating, and their New Zealand wines are delicious.
Omaka Aviation Heritage Centre
You cannot visit Blenheim without taking time to explore the Omaka Aviation Heritage Centre. The work that has gone into the WW1 and WW2 displays is incredible. New Zealand film director Peter Jackson's Knight's of the Sky contains his collection of WW1 artefacts and memorabilia, and the Dangerous Skies WW2 exhibit features a range of warbirds, painstakingly restored. You can see that the hand of New Zealand's Weta Workshops has gone into creating like-like life-size mannequins for both exhibits, bringing the stories of lesser-known heroes in these wars to life.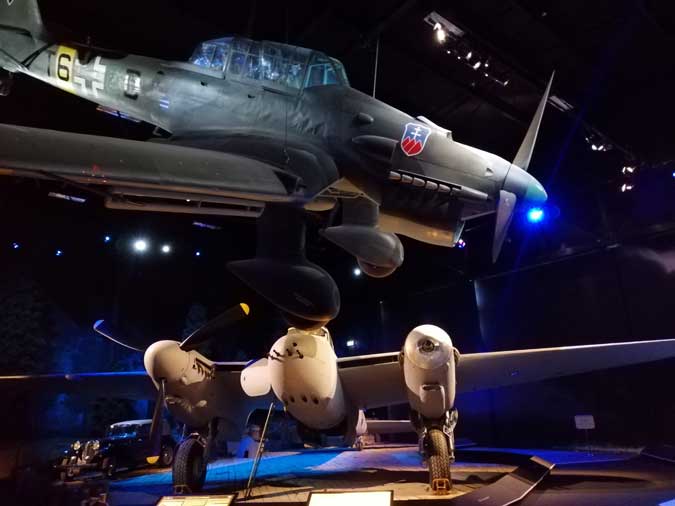 Inside the WW2 Dangerous Skies Exhibit at Omaka Aviation Heritage Centre, Blenheim. Photo Credit: Omega Rental Cars
Right next door to the Aviation Centre, you'll also find the Omaka Classic Car Museum. Not quite in the same league as the one in Nelson, it is still a South Island attraction well worth exploring if you are a classic car lover.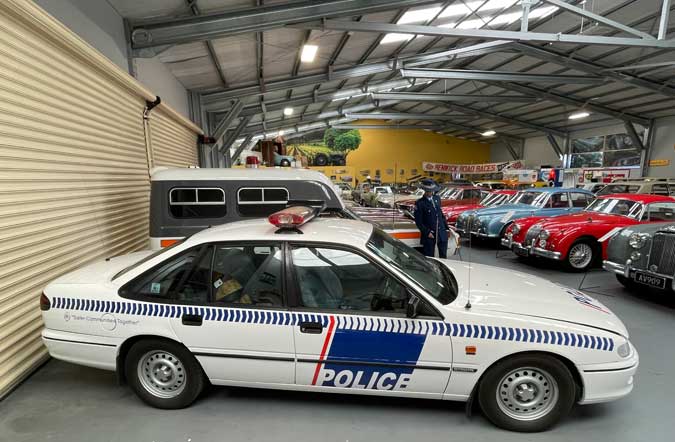 Omaka Classic Car Museum, Photo Credit: Omega Rental Cars
Blenheim via Kaikoura to Hanmer Springs Thermal Resort
After a substantial breakfast at the Watery Mouth Café in Blenheim town centre, we were on the way to discover Kaikoura, traversing the South Island road once impassable due to the November 2016 earthquakes. The engineering work that has gone into rebuilding this route is a sight to behold, but there is very little in the area explaining what was done. I found some more info online:
2016 Kaikoura Earthquake Recovery
The earthquake twisted train tracks and ruptured road pavements. Over 100 structures and 20 tunnels were damaged, with over one million cubic metres of rock and other debris coming down onto the road and rail links.
The Kaikoura township and surrounding communities were totally cut off due to the closing of the South Island's State Highway 1, the Main North Line railway between Picton and Christchurch – the main road and rail routes into and out of the area.
The sea bed in Kaikoura's harbour rose by a metre, so boats couldn't enter the harbour, leading to a major downturn in the tourist economy for the region.
The South Island moved 6m closer to the North Island as a result of the 2016 earthquake.
More than 33,000m2 of rockfall protection mesh has been wrapped around seven slips south of Kaikoura, protecting the road and rail below.
210 Archaeological sites were identified.
Professional seal handlers personally relocated 13,200 + seals (adults and pups).
22,000m3 of material was dredged from Kaikoura Harbour.
The rebuild budget was $1.3 billion.
Within just over a year following the quakes, the critical main North Line railway from Picton to Christchurch, Kaikoura harbour and the main coastal SH1 link was reopened. Quite a feat!
World-famous for its local marine wildlife, Kaikoura is the perfect place on the west coast of New Zealand for dolphin and whale watching, as well as spotting sea lions on the beach. Scenic flights provide unparalleled views from which to discover the unique natural environment and marine life on offer. Although Kaikoura is known for its crayfish, we had to pass on this occasion as we were still full from breakfast, and the iconic Nins Bin was temporarily closed. Hopefully, this will reopen soon. With a last look at the beautiful surrounding mountains overlooking the ocean, so iconic to the South Island, it was onwards to explore Hanmer Springs.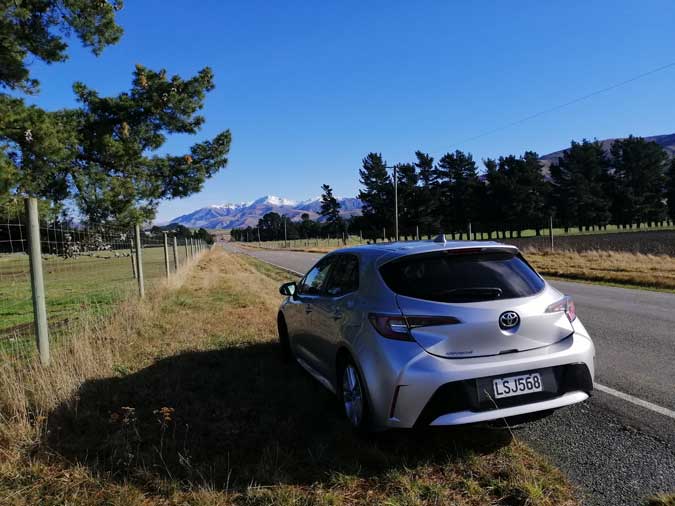 On the road from Kaikoura to Mt Lyford and Hanmer Springs. Photo Credit: Omega Rental Cars
We also made a brief stop along the way to peer through the fence at the Rodin Cars facility. Many of us at Omega Rental Cars are a bit hooked on motorsport, so exploring David Dicker's track and race car manufacturing facility, albeit at a respectful distance, was worth a short stop!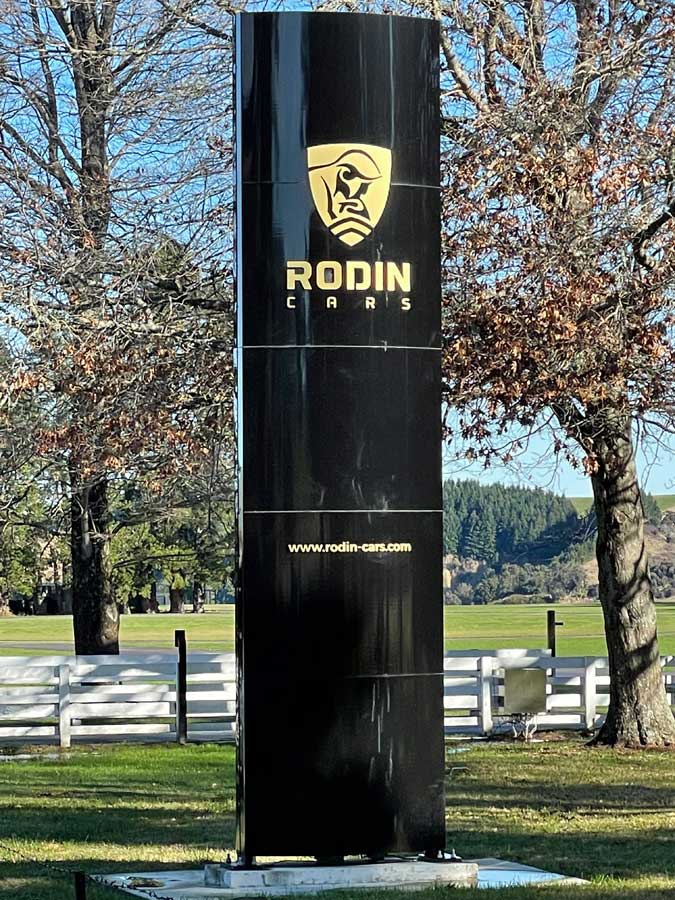 Rodin Cars, on the road from Kaikoura to Mt Lyford. It's not a tourist attraction, but we stopped and took a photo from the outside, nonetheless. Photo Credit: Omega Rental Cars
Things to Do in Hanmer Springs
An alpine resort built around a hot thermal area, with natural thermal pools being a popular attraction, the South Island's Hanmer Springs has a great selection of lovely hotels, restaurants, cafes, and even boutique shops to discover. It has great parks and facilities for the kids, and when we visited (during the July school holidays), there was even a temporary ice-skating rink set up. Hanmer Springs is a very popular holiday and weekend spot for visitors from Christchurch and the rest of New Zealand. It is also a great place for conferences and team building.
We enjoyed a visit to the old Queen Mary Hospital (there's something oddly interesting about abandoned buildings) and we will time our next visit to coincide with the arrival of just a little more snow, as the region even has a ski field – locally run by volunteers. In Hanmer Springs, you can get your South Island adrenaline fix on a jet boat ride, bungy jump, or by going rafting in the spectacular Waiau Gorge Canyon.
Hanmer Springs Hotel
Our accommodation for the night was at the lovely Hanmer Springs Hotel, a CPG property. This is a stately building with a lot of history, and a very regal charm! CPG has a great partnership with Omega Rental Cars – offering a 15% accommodation discount to Omega customers at all their properties nationwide. So, of course, I had to stay at their Hanmer Springs Hotel, which was quite lovely.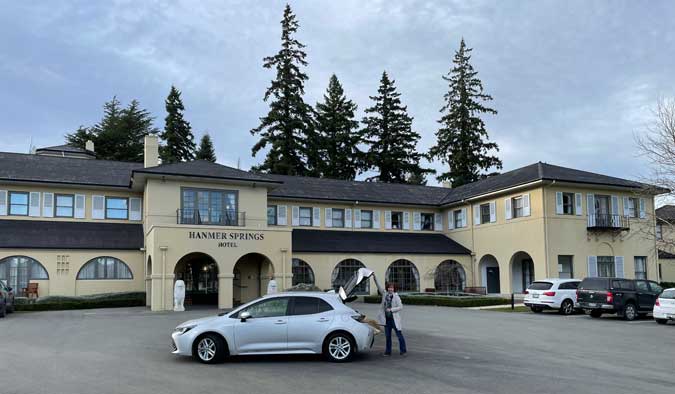 Hanmer Springs Hotel, 1 Conical Hill Road, Hanmer – a CPG Hotel, save 15% as an Omega Customer – Photo Credit: Omega Rental Cars
Hanmer to Murchison via the Lewis Pass, Greymouth & Punakaiki
Leaving Hanmer Springs with its beautiful blue skies and crisp temperatures, we knew we had a big day of driving ahead. We were keen to explore the South Island areas of Greymouth and Punakaiki but didn't necessarily feel the need to stay in either place – although we are told that there are some great walks to discover in the Punakaiki Region of the West Coast.
The drive through the Lewis Pass was stunning and very easy. We didn't encounter any issues or ice on the roads, although this is certainly something to keep an eye out for when travelling by car across the top of the South Island.
Greymouth – A fishing port for only the hardiest of souls
In Greymouth, we were most fascinated by the horrendous bar crossing at the harbour entrance. The seas seemed rough the day we were there, but perhaps that is quite normal as the memorials to the fishermen lost at sea stopped us in our tracks. They must be extremely relieved every time they are safely back inside the sea wall.

Safely in the harbour at Greymouth, fishing boats at rest – Photo Credit: Omega Rental Cars
Punaikai Pancake Rocks and Blow Holes
Punakaiki's Pancake Rocks and Blowholes are a unique feature of the South Island's natural environment, and well worth visiting. The 20-minute safe walking track has been very well done, with multiple opportunities to photograph this unique rock formation and the surrounding landscapes and marine wildlife – great work, DOC! There is also a great café and visitors centre here, making it a worthwhile stop for lunch. Punakaiki is also the perfect place to use as a base for exploring the lush native forest, river canyons, and decorated caves of Paparoa National Park.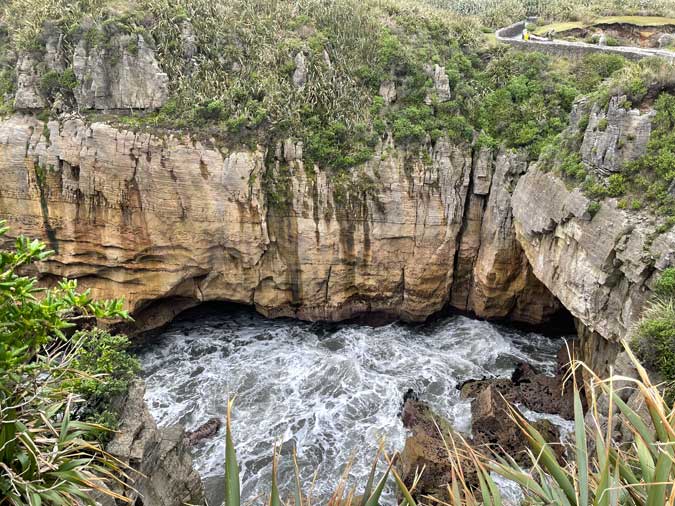 On the short coastal walk at Punaikiki – Photo Credit: Omega Rental Cars
It had begun to rain by this stage, and with more heavy rain forecast, we headed straight for Murchison, our overnight stop, via the Buller Gorge. We were keen to avoid getting stuck due to slips on the road, of which there were many. Our night at Murchison Lodge was excellent, in the great company of other guests, in front of a roaring fire while the rain came down. Toasty, safe and warm - just perfect. We were feeling quite at home on the West Coast of the South Island. The next day it was on to Nelson, the sunniest region of New Zealand, just an easy drive north from Murchison. With golden beaches, national parks, and cycle trails, Nelson is a gem at the northern end of the South Island worthy of its own blog post, which I'll save for another day.
If you're keen to take your own South Island road trip - book your car from one of our handily located Omega Rental Cars branches and tick some new places and experiences off your bucket list. Get exploring the top of the South Island - with world famous national parks for sightseeing and camping, thrill-seeking activities, and an abundance of marine wildlife to discover, this area boasts some of the best attractions that New Zealand has to offer. Whether you're exploring by boat, scenic flight, or rental car, we highly recommend it! Just remember to book in advance as with international borders closed, more kiwis are enjoying the fantastic scenery on their doorsteps.