Beautiful Blenheim - Home of the Saint Clair Vineyard Half Marathon
I knew that Blenheim, and in fact the whole of the Marlborough region, was stunningly scenic and it probably helped that I visited on a weekend in May when the weather was just superb, but even this cynical Aucklander was quite blown away by Blenheim.
While you can fly directly into Blenheim (and Omega Rental Cars will happily deliver a car to the airport for you) I chose to pick up my rental car from Nelson Airport and drive the 1 1/2 hrs across to Blenheim, a stunning drive, with signposts to the various vineyards heralding your arrival.
I was here for the Saint Clair Vineyard Half Marathon, as Omega Rental Cars was one of the sponsors for the first time this year. After a very efficient registration on Friday night, early the next morning it was off to the town square to meet the bus that was to take us the short distance to the start line. While there are plenty of good accommodation options in town, they fill up fast for the weekend of the run, so be sure to book well in advance.
In the morning sunlight the acres and acres of vineyards that make up this region were even more stunning and it was quite a treat to be allowed to run through them.
At the start line, surrounded by rows of gorgeous vines.
Judy and Neal Ibbotson and their family have kindly allowed the run to start on their property since its inception 10 years ago, and while husband Neal is on the microphone welcoming us all at the race briefing, Judy is among the throng of runners. She has completed the run every year since its small beginnings with a crowd of 200, to its current maximum of 3,400 participants. It was my pleasure to meet her at the start line.
With Judy Ibbotson of Saint Clair Family Estate, she explained that the run is timed to perfection - the grapes are harvested but the leaves have not yet dropped (which wouldn't look anywhere near as stunning).
With 3 categories - Run, Hybrid (some running and some walking), or Walk - all let go in well organised waves, there was very little congestion over the start line.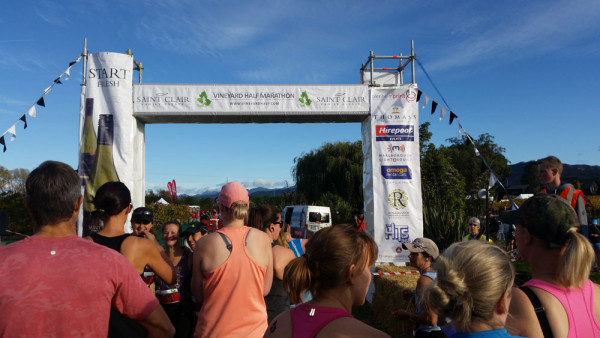 Ready to start..
You might think that a 21km event on your own two feet might get a little tedious, but I have to say this course was anything but. With entertainment at every drink stop and many other points besides there was plenty to take your mind off the running. And as the course was almost completely flat and on grass or gravel tracks, it was a lot kinder on the body than a road race such as the Auckland Half Marathon.
And of course there was the much longed for sauvignon blanc gelato. Far better than powerade in my book!
So, get a group together and make a plan for 2017 - but don't wait too long to register once entries open, this event will sell out by Christmas 2016. See you there!