Top Things to do in Nelson
Looking for the top things to do in Nelson on New Zealand's South Island? World-renowned for its sun, rolling hills and golden sand beaches, the Nelson-Tasman region is full of fabulous attractions for thrill-seekers or those just wanting to kick back and relax.
Whether you wind up at a fun park playing mini-golf on a rainy day, wandering through Trafalgar Square as the sun shines, or amidst snow-capped mountains in winter. We're sure your Nelson-Tasman experiences will make your visit extraordinary. With so much to see and do, check out our list of six of the region's best attractions and start planning your exploration of Nelson, New Zealand!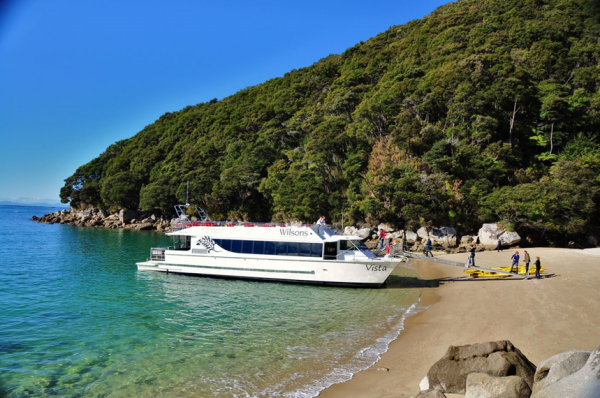 Photo credit Wilsons Abel Tasman
Wilsons Abel Tasman
With boat transport, walking, guided sea kayaking and beachfront lodges, Wilsons Abel Tasman offer a wide choice for visitors to the famous Abel Tasman National Park, just a one hour drive from Nelson City. One of the longest-running operators for trips to the Abel Tasman Coastal Track, the Wilsons team has the experience to provide spectacular tours to suit any visitor.
Their Vista Cruise provides fast, safe, comfortable transport to picturesque beaches along the golden granite coast. Stay on board and admire the stunning natural landscapes from comfortable seating, or choose a beach stop where you can relax onshore, participate in some fantastic hikes or join a guided sea kayak trip.
Visitors can arrange for day trips that last a few hours or a full day to enjoy a beautiful walk, taking in the Park's unique scenery. Wilsons Abel Tasman also offers 3 and 5-day all-inclusive holidays with accommodation at their beautiful lodges situated right on the beachfront. The Abel Tasman National Park is a must-see attraction in the Nelson region that is best experienced with the team from Wilsons Abel Tasman.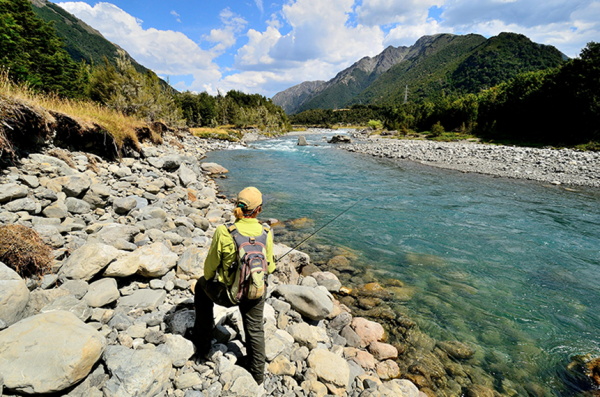 Photo credit Owen River Lodge
Owen River Lodge
For many outdoors people, fly fishing is a true passion, and as one of the finest luxury fishing lodges in New Zealand, the Owen River Lodge offers some of the world's best angling. Located on the Owen River and an hour and 45 minutes from the Nelson city centre, the lodge provides easy access to Nelson, Marlborough, North Canterbury and West Coast fisheries. These rivers are often called 'gin clear' and offer spectacular sighted river fishing and the perfect opportunity to land that dream 10-pound trout.
Visitors to the Owen River Lodge can choose to go it alone or hire one of the local expert fishing guides to help them navigate the best angling spots in the Nelson region. These experienced guides also offer tuition for beginners and accomplished fly fishers to help you get the most from your time on the rivers.
While the Owen River Lodge is the ideal base for that once in a lifetime fishing adventure, nearby Nelson Lakes National Park offers some incredible tramping. Or you could also enjoy golf, follow hiking trails through native bush, or take a mountain bike up the valley.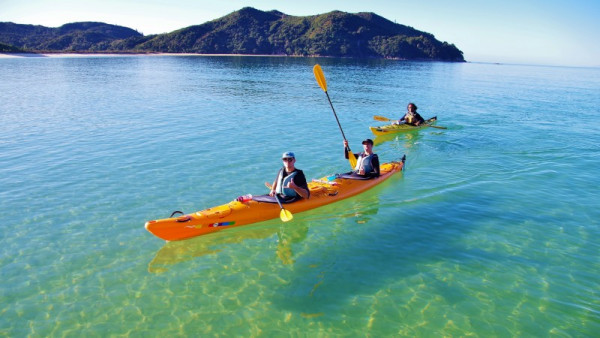 Photo credit: Kaiterteri Kayaks
Kaiteriteri Kayaks & Abel Tasman Sea Shuttle
A guided kayaking tour with Kaiteriteri Kayaks is one of the most enjoyable ways to explore the Abel Tasman National Park, a mecca for Kiwis and international visitors alike. Nelson tours can be perfectly tailored to the amount of time that the group has available - 2, 3 or 4 hours exploring the spectacular New Zealand coastline from Kaiteriteri to Split Apple Rock.
Sister company, Abel Tasman Sea Shuttles, has a customised fleet of ferries servicing local golden beaches with pick up/drop off points of the Abel Tasman National Park. Between the kayak and shuttle options, you can plan a trip that involves hiking, kayaking and/or ferry transport to create your preferred itinerary for exploring the Abel Tasman Track and coastline. Or cruise up to Golden Bay and enjoy a forest walk right in the heart of the Park. Keep your eyes out for native birds and New Zealand fur seals along the way!
Kaiteriteri Kayaks and Abel Tasman Sea Shuttles pride themselves on being environmentally friendly tourism operators. Through Sea Shuttles, they make regular in-kind contributions to Project Janszoon and The Abel Tasman Birdsong Trust. They also provide a kayak rental service for anyone wishing to go off and explore the coast on their own. Experience the best of the Abel Tasman's awe-inspiring plant and animal life when you book a tour with Kaiteriteri Kayaks and Abel Tasman Sea Shuttle.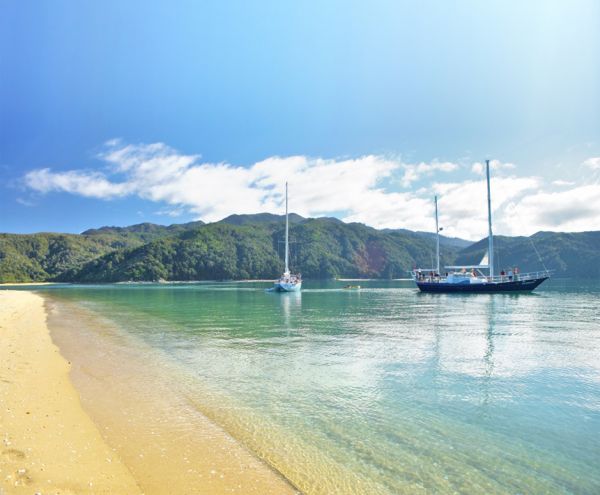 Photo credit Gourmet Sailing
Gourmet Sailing
Gourmet Sailing offers one of the most unique Nelson attractions. Enjoy New Zealand nature adventures with exceptional dining, service and accommodation aboard one of two beautiful yachts. Submerge yourself in the beauty of the Abel Tasman National Park for a full day (maybe three?), or enjoy a new perspective on Nelson's historic harbour for a few hours.
While relaxing afloat, indulge in superb gourmet cuisine prepared with market-fresh Nelson-Tasman boutique ingredients and premium local wine and Eddyline craft beer.
Gourmet Sailing offers a range of day trips and overnight cruises for unforgettable getaways in the pristine beauty of Nelson-Tasman, the Abel Tasman National Park, Golden Bay and the Marlborough Sounds. Gourmet Sailing is a crewed charter service, and their attentive staff do their best to ensure you have an exceptional experience, whether you are a sailor or novice. Your private sail will be custom-planned to fit the specific needs of you and your guests. So for a Nelson-Tasman outing that offers a superb combination of luxury and adventure, spend a day or two afloat with Gourmet Sailing.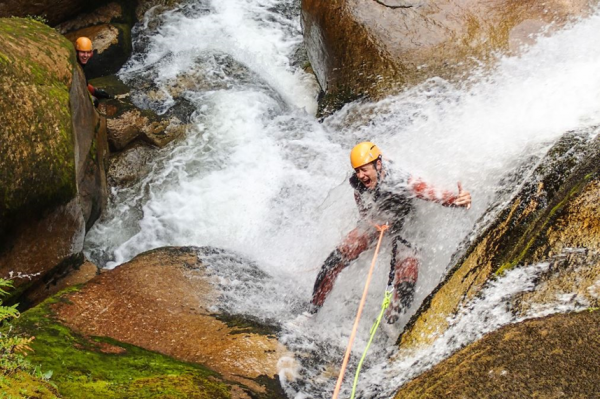 Photo credit Abel Tasman Canyons
Abel Tasman Canyons
Looking for a unique New Zealand adventure? Abel Tasman Canyons offers one-of-a-kind canyon tours with visitors experiencing a day of nature and thrilling activity that few places can beat. With experienced guides by your side, descend into one of five different canyons to visit areas and discover sights that most visitors never get to see.
During your guided canyoning trip, you'll get the chance to slide down water chutes, abseil through scenic waterfalls and, for the adrenaline junkies, jump from cliffs into sparkling pools of water. Abel Tasman Canyons operates tours in three National Parks: Abel Tasman, Mount Richmond and Kahurangi National Park.
A diverse range of canyoning trips is available for visitors to Nelson with different levels of fitness, some with more jumps, abseils or swims. All necessary equipment is provided by Abel Tasman Canyons, with transport and catering supplied on most trips. Pickups are available from Nelson City for a small fee. For a superb mix of adventure and stunning scenery, visit Abel Tasman Canyons for an unforgettable Nelson-Tasman experience.
Keytag Bonus:
Receive a 5% discount on all Abel Tasman Canyons tours upon presentation of your Omega keytag!
More amazing things to do while visiting Nelson-Tasman
Take a short walk around the historic Founders Heritage Park or the Victorian Queen's Gardens in the Nelson city centre.
Love museums and art galleries? Visit the Nelson Provincial Museum on Hardy Street, the Classic Car Museum, Suter Art Gallery and the World of Wearable Art.
Nelson is the craft brewing capital - sample a craft beer at one of the ten local craft breweries.
Explore Nelson by bike along Tasman's Great Taste Trail, and stop for wine tasting at the Rimu Wine Bar.
Browse the Nelson market at Montgomery Square.
Visit the coldwater Te Waikoropupu Springs.
Walk the Cable Bay Walkway and follow the steep hill from the beach for spectacular views.
Enjoy a barbeque on Rabbit Island and follow the hiking trails through the pine forest.
Take the kids to Nelson's Natureland Zoo at Tahunanui Beach.
Mountain bikers can take on the Dun Mountain Trail.
If you're looking to explore this stunning corner of New Zealand, hire a rental car in Nelson, from near the airport, or from Picton and experience more of the Nelson-Tasman region's famous scenery as you head to your next adventure.