Akaroa Swim with Dolphins
If you've found yourself looking for things to do in and around Christchurch, why not consider a visit to Akaroa and swim with dolphins?
Black Cat Cruises is an eco-tourism operator offering incredible dolphin swimming opportunities in Akaroa, New Zealand. The world's rarest dolphin – Hector's Dolphin – is only found in the waters of New Zealand and is the smallest oceanic dolphin in the world. And if that wasn't reason enough, Akaroa is the only place you can swim with these wild dolphins.
Imagine the cool sea breeze on your face with the majestic Akaroa Harbour surrounding you as you swim with the dolphins. To swim with dolphins in Akaroa in a protected marine mammal sanctuary is truly a once-in-a-lifetime experience.
Keytag Bonus:
Receive a $5 discount upon presentation of your Omega keytag!
Akaroa is approximately a one and a half-hour drive to the southeast of Christchurch in the Banks Peninsula, where cruises depart daily from the main wharf.
The Banks Peninsula has a lot of uniqueness about it – other than the dolphins, that is – Akaroa Harbour is an extinct volcano crater! Akaroa is a town full of history with British and French influence. French settlers arrived in Akaroa in 1840, the effect of which is still felt today with many French street names and French families living in Akaroa.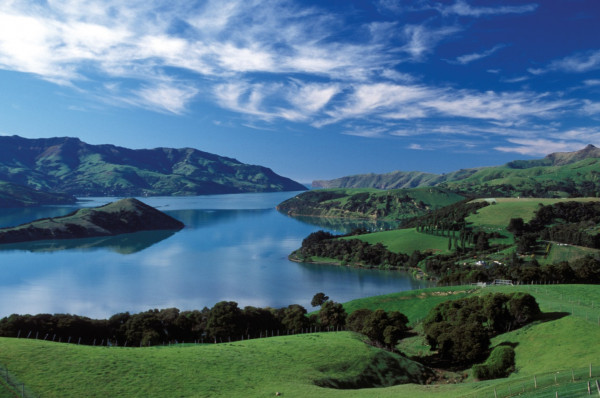 Akaroa Bays, Banks Peninsula
Black Cat Cruises have become the first cruise boat company to receive the internationally coveted Green Globe 21.
Dolphin swimming is available in Akaroa year-round, excluding our winter months (June, July, and August), as New Zealand's Winter temperatures don't make for the most pleasant swimming! During the warmer months, cruises operate every day but are weather-dependent.
Your experience will be inside the sheltered harbour of the amazing volcanic cliffs when you're swimming with dolphins. You'll have an amazing time meeting the world's smallest dolphins in their natural habitat.
The Banks Peninsula is home to about 900 Hector's Dolphins, where they spend a lot of time playing and eating. The dolphins are generally very people-friendly, so they like to approach the Black Cat Cruise boats.
Each Akaroa dolphin swim tour is limited to small groups of no more than 12 people to ensure that each child and adult swimmer has the best chance of coming face-to-face with the dolphins. Whilst sightings can't be guaranteed on every trip, 97% of Black Cat Cruises' tours see dolphins, and 81% have successful swims. But, if you fall into the unfortunate 3% of trips where no dolphins were sighted, you will receive a 50% refund¹.
Please respect the natural environment and help to uphold the best environmental practices by not touching these wild dolphins.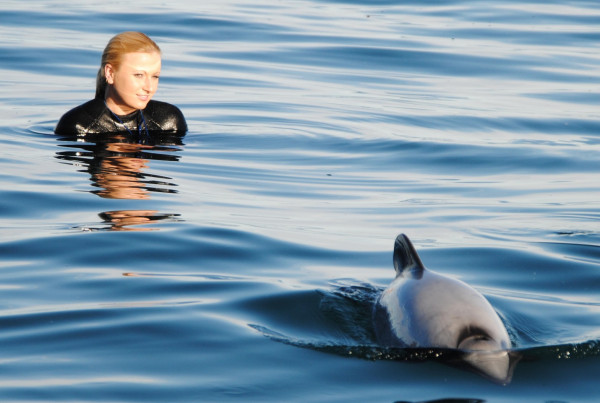 Swimming with a Hector's Dolphin on a Black Cat Cruises' tour
Everything you need for the Akaroa dolphin cruise and swim is provided – a thick wetsuit, snorkel & mask, booties and gloves. Please note that customers need some knowledge of English to understand the safety instructions and emergency procedures.
Afterwards, you'll receive post dolphin swim hot showers, a free hot chocolate and biscuits on board. A swim certificate and dolphin information sheet are available on request. Please bring sunscreen and warm clothing for after your encounter. Don't want to swim? You have the option to stay on board for dolphin watching in Akaroa from the boat.
As with much of New Zealand, there's plenty to be said about the sights and scenery you'll take in along the way. Akaroa on the beautiful South Island is no different, and you'll be treated to amazing blue waters and green mountain ranges bordering the harbour throughout your cruise.
Swimming with dolphins with Black Cat Cruises is worth putting on your list of things to do while on holiday in Christchurch.
Keytag Bonus:
Receive a $5 discount upon presentation of your Omega keytag!