Make it a Wairarapa weekend, just a short drive from Wellington!
The Wairarapa Region is becoming a very popular short-stay destination, easily accessed from Wellington. It is an ideal place to plan a laid-back getaway with family or friends, whether marking a special occasion or simply 'just because'. Martinborough, Greytown, Castlepoint, Featherston, Cape Palliser – if these names are familiar but you have not yet enjoyed a visit – then now is the time! Great food, lovely vineyards and a relaxed vibe combine with stunning scenery to create a perfect escape.
Our visit to the Wairarapa was at Easter – book early if you plan to visit over a popular period such as this, as the boutique accommodation options sell out fast.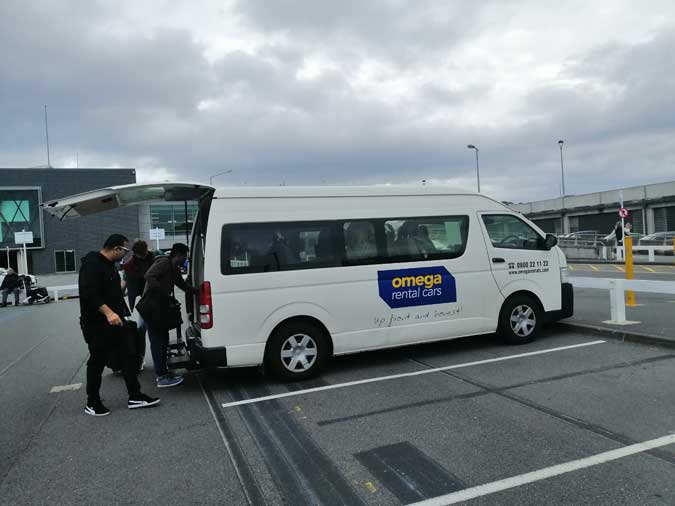 Photo Credit: Omega Rental Cars
We flew to Wellington from Auckland and were picked up in the Omega shuttle van for the short hop to the depot to collect our Wellington Airport rental car. Very easy, and the friendly team had us on our way in no time!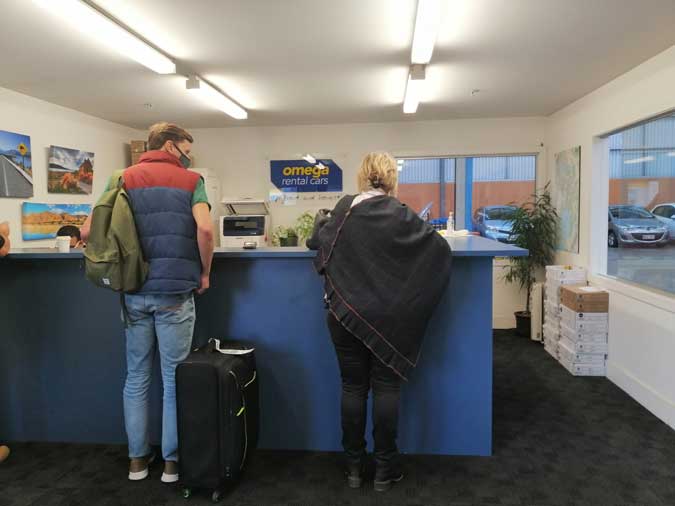 Photo Credit: Omega Rental Cars
Driving to the Wairarapa from Wellington
The drive from Wellington to Featherston takes approximately an hour. Traffic getting out of Wellington can play its part, so pick your time to leave appropriately. It is a scenic drive on State Highway 2 through the Hutt Valley, with rivers and trees on both sides. Then it is up and over the stunning Remutaka Ranges – narrow and winding, it must have been quite a feat building the road. Apparently in World War 1 more than 30,000 soldiers took a 3-day march over what later became this road, marking the end of their training. There is a lookout point at 555 metres above sea level where there used to be tea rooms, but after standing empty for some years they were damaged in a fire and demolished in 2009. You must wait until you get to Martinborough for your much-needed cuppa now!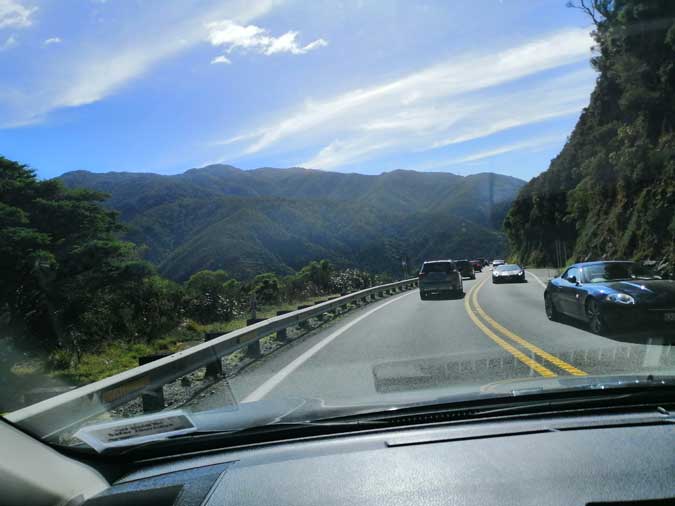 Photo Credit: Omega Rental Cars
The Remutaka Rail Trail
The Remutaka Rail Trail is another great way to see a bit more of this region. A cycleway that has multiple start-finish points depending on the length of time you're wanting to spend in the saddle, it takes the route of the old Wairarapa railway line up and over the Remutakas. For commuter trains, this railway line was replaced by one of the longest rail tunnels in New Zealand in 1955 and provides a great option for those working in the city and living in the Wairarapa Region. This leaves the old railway line simply for the cyclists – be that on a conventional bicycle or an e-bike, as part of a cycle tour, or exploring independently.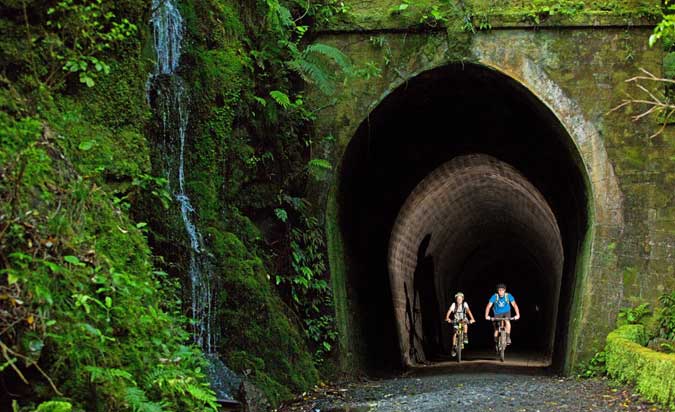 Photo Credit: https://www.wellingtonnz.com/experience/see-and-do/top-10-things-to-do-in-featherston/
Featherston – Gateway to the Remutaka Rail Trail
The town of Featherston is the first you will come to in the Wairarapa and the main entry point to the Remukaka Rail Trail. As well as great wining and dining options, Featherston is home to not one but two fascinating museums – the Featherston Heritage Museum Complex and right next door the Fell Locomotive Museum.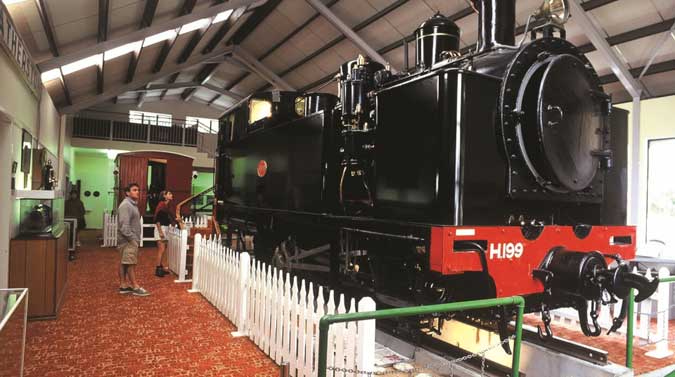 Photo Credit: https://www.fellmuseum.org.nz/
Dining & Book-worming in Featherston
At the Brac & Bow Restaurant at The Royal Hotel Featherston, you can enjoy classic dishes of local food and wine, including Featherston's cheeses, surrounded by historical Victorian architecture. Featherston is also known for its books, boasting the most bookstores per capita in New Zealand! Well worth a browse for great second-hand books, literary classics, bestsellers and children's books.
Martinborough – Vineyards, great dining options and stacks of colonial charm!
Martinborough is the most popular place to stay in the Wairarapa, and on arrival, our first stop was at the Martinborough Hotel. When they say colonial charm, this is what I picture! The main centre of Martinborough has a memorial town square – a lovely green square of well-established trees that provide shade and contribute to the relaxed vibe.
Dining Options in Martinborough
The Martinborough Hotel is right on this square, making it very easy to find. However, there are plenty of other dining options as you wander the square and the surrounding short streets, so follow your nose. We enjoyed a course here, a course there, to be able to enjoy as many places as possible! Cafe Medici, with its sunny rear courtyard and generous portions of really tasty food felt like great value for money as well as offering excellent service. Top marks from us!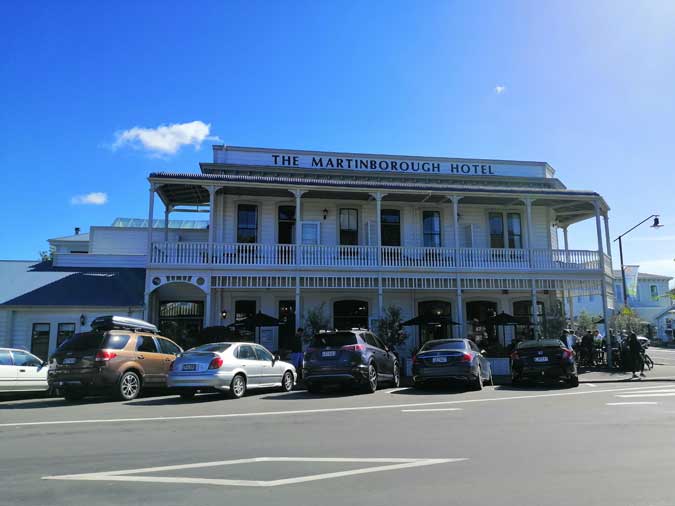 Photo Credit: Omega Rental Cars
Wairarapa – Home to Vineyards Galore
Martinborough alone has 20 or more vineyards you can explore, plus breweries and even a gin distillery - which is why it pays to be here for at least a weekend! Lighthouse Gin takes its name from the distinctive Cape Palliser Lighthouse, and they produce small-batch gins with a unique blend of nine botannicals. Whilst Lighthouse Gin is not open to the public, tastings are available at the iconic Te Kairanga (TK) Winery in Martinborough. Housed in the 130-year old cottage of Martinborough's namesake, John Martin, the TK cellar door and cottage gardens are a rustic and inviting place for tastings and platters to be enjoyed.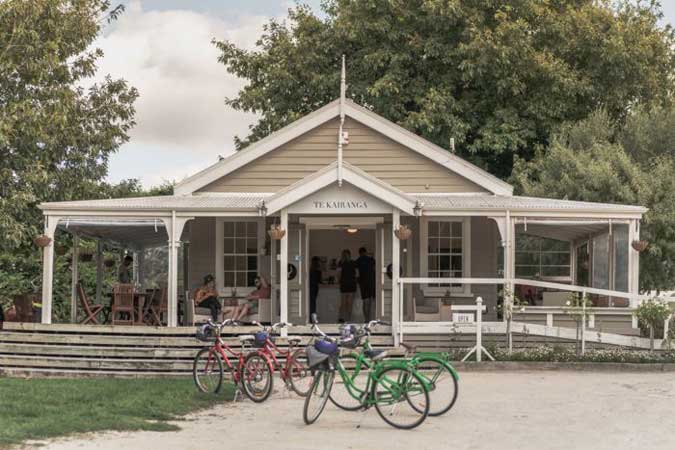 Photo Credit: https://www.tkwine.co.nz/our-place
Things to Do in Martinborough
You can arrange to hire cycles to get between the vineyards or take a guided tour. At Olivo, the Wairarapa's oldest commercial olive grove, you can take a tree to table tour of deliciousness. But of course, there is more to do than just dining out – you can pick lavender at a lavender farm, take a horse trek, go bird watching, hike across farmland and go stargazing!
Cape Palliser Lighthouse
To drive from Martinborough to Cape Palliser takes about an hour, passing through the little town of Ngawi. The final section is gravel so take care and look out for the seals!
The Lighthouse itself has quite a history – it was built in 1897 out of cast iron. How they managed to get it up on the cliff I am not sure, but next to the steps there is an old winch of sorts, so perhaps that was used. Or perhaps that only served to help the lighthouse keepers haul the oil and kerosene cans, that were required to power the lighthouse, up the dirt track, before the steps were put in. There are 253 steps in all, so take a deep breath before you start. The lighthouse stands 18 metres above sea level on the southernmost tip of the North Island. It is further south than Nelson or Blenheim in the South Island!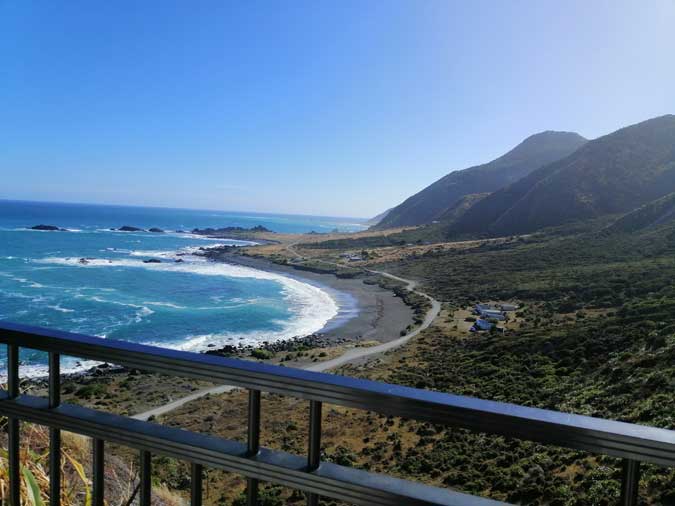 Photo Credit: Omega Rental Cars
Dramatically painted red and white to stand out from the cliffs behind, it provides a much-needed navigation aid for ships – during the 19th century, there were about 20 ships wrecked in or near Palliser Bay.
The seal colony at the foot of the lighthouse is also well worth a look, it takes a moment to spot the seals who are well camouflaged on the black rocks, but they are there and soon you will spot loads!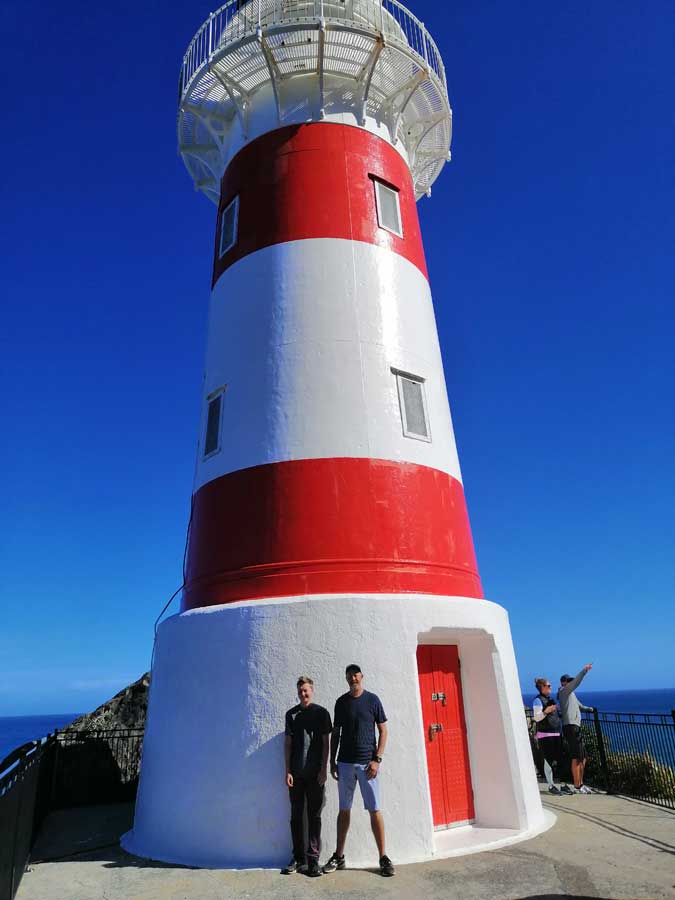 Photo Credit: Omega Rental Cars
Ngawi – Golf with the Sheep and Fishing with the Diggers!
We were quite fascinated as we passed through the tiny town of Ngawi. This is a fishing village, set on a notoriously rough stretch of coastline. No boat ramps – I'm not sure they would help anyway! Instead, the boats are hauled in and out with diggers, trailers well padded with rubber tyres to protect against the pounding they get from the waves as they try to find their trailers. I wanted some fishing action to happen on the day we were there, but perhaps it was too calm and not worth the challenge. The main activity seemed to be golf – quad bikes replaced golf karts on the Ngawi golf course and the sheep wandered around the course at will!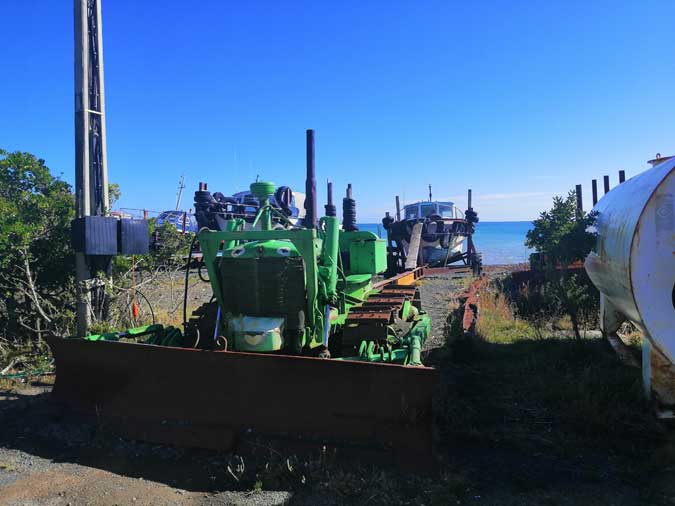 Photo Credit: Omega Rental Cars
Castlepoint Lighthouse, Greytown and more
If you love lighthouses then there is another in the region that you should visit. We didn't on this occasion, but Castlepoint Lighthouse claims to be one of the most instagrammable locations in the Greater Wellington region so we will definitely do so next time.
Getting to Castlepoint
Castlepoint is in the opposite direction from Martinborough than Cape Palliser, heading northeast through Greytown, Carterton and Masterton. So, I'll save that whole region for my next Wairarapa weekend. Lots to see and do, great places to eat and explore – and all within an easy drive of Wellington. What's not to love about the Wairarapa!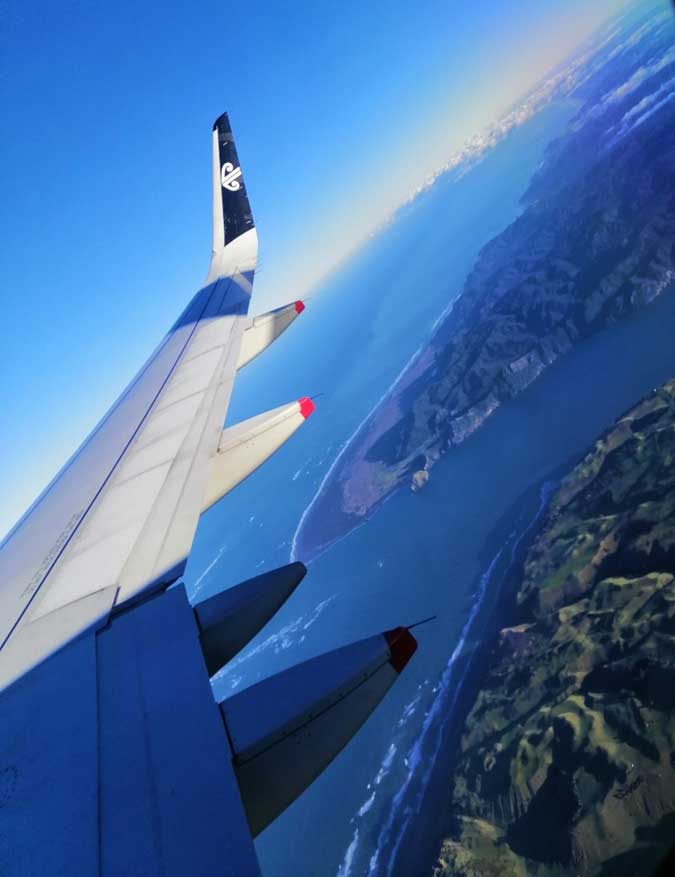 Photo Credit: Omega Rental Cars
Getting to the Wairarapa
Fly into Wellington and pick up a car from Omega Rental Car's Wellington Airport or Wellington City locations to make it easy to explore this fantastic part of New Zealand.