Highlands Motorsport Park – World Class Facility with Experiences to Match
Visit Highlands Motorsport Park in Cromwell, located only 45 minutes away from the adventure capital of the world – Queenstown – and experience exceptional fun for the whole family. A world class facility with adventures to match, Highlands offers multiple ways to experience the international race circuit at speed from Supercars to U-drive race cars; is home to a 650m outdoor Go Kart circuit with single and tandem karts; is home to the National Motorsport Museum, the famous Loo with a View and has a fully licensed Café.
Keytag Bonus:
Get 20% Off on Highlands activities on presentation of your Omega keytag!
(not valid in conjunction with any other offer).
Experience the thrill of an international race circuit at speed
Highlands Go Karts are a fun way to challenge your friends or family members to some friendly competition. Transponders record each lap time with race results emailed to you on completion to show your overall placing and times.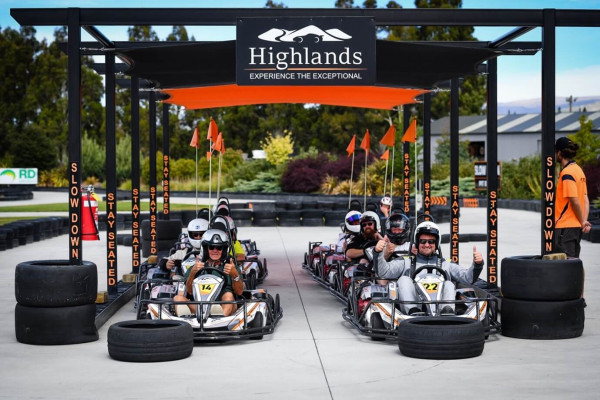 Friendly competition in the Highlands Go Karts
An awesome way to experience the main race circuit is with the Highlands Taxi - enjoy a leisurely informative tour for your first lap and then our Highlands pro driver will help you to experience the second lap at speed! Perhaps the Supercar Fast Dash is more your style; hold on for a single lap blast as a passenger in a Highlands Supercar 0-100km/h in 3 seconds (subject to availability it will be either a Ferrari or a Porsche).
Experience the track with a pro-driver in a Highlands Taxi
Want to get in behind the wheel for a drive yourself? Choose between the Radical U-drive, the ultimate in self - drive experiences – like driving in your own Le Mans! Or alternatively the Repco V8 Muscle Car U-drive experience – the self drive experience for all V8 lovers! Enjoy a couple of instructional laps around Circuit C then its foot down for 5 laps at speed with a pro race driver at your side to provide tuition and guidance.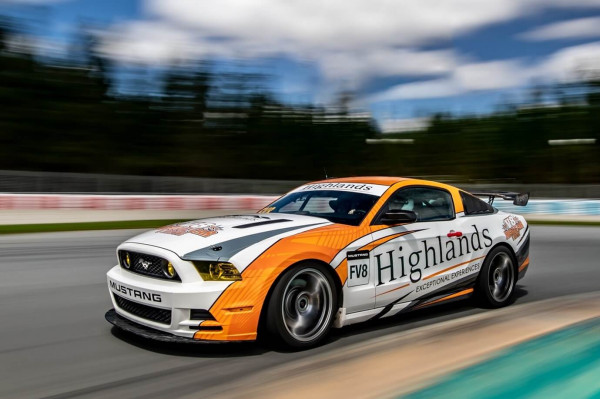 The V8 Muscle Car U-Drive in action at Highland Motorsport Park
The National Motorsport Museum is well worth a look during your visit to Highlands. Home to supercars, race cars, trucks, motorbikes and the only Aston Martin Vulcan in the Southern Hemisphere, worth 4.2 million dollars and some of the rarest cars in NZ motorsport. The Museum has some hidden gems such as the Aroma Room, an authentic American sheriff's patrol car, and even several arcade driving games.
Your Museum Entry also includes access to the Young Guns Virtual Reality room. The Virtual Reality experience celebrates the Young Guns of New Zealand motorsport and you can do a virtual hot lap around the Highlands circuit with drivers such as Greg Murphy, Mad Mike and Hayden Paddon.
In early 2021, Highlands revealed their latest innovation; Loo with a View! The toilets all have one-way glass which gives guests a stunning view of the race-track and surrounding mountains. Each toilet has a different theme and is instantly Instagramable.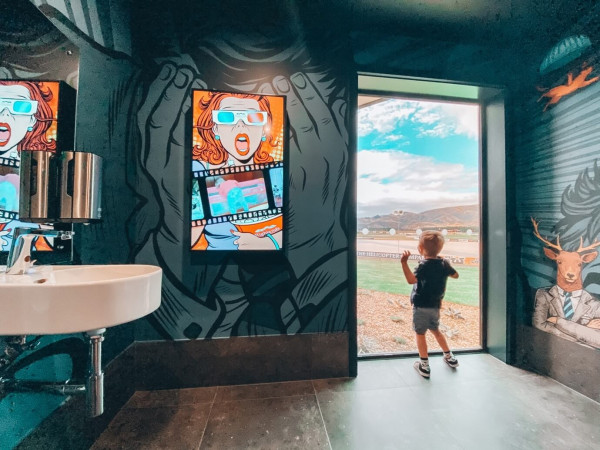 The famous Loo with a View!
Whatever your speed, we have an attraction to suit you and look forward to welcoming you to Highlands soon: a world class facility with adventures to match.
Open daily from 10am-5pm (summer) and 10am-4pm (winter).
Highlands Motorsport Park is approx 50 mins drive from Queenstown. Pick up a rental car from Omega's Queenstown Central or Queenstown Airport depots and follow State Highway 6 to Cromwell.
Highlands
Corner SH 6 and Sandflat Road Cromwell
www.highlands.co.nz
(03) 445 4052
Keytag Bonus:
Get 20% Off on Highlands activities on presentation of your Omega keytag! (not valid in conjunction with any other offer).