Awesome Biking Adventures on the Queenstown Trail
Planning a trip to New Zealand can be difficult, but for all the best reasons: there are simply so many things to do and see that researching potential activities can be overwhelming. To make matters a little easier, know that if you're interested in both cycling and seeing some of Aotearoa's beauty, the Queenstown Cycle Trail is bound to be something you'll enjoy.
General information about the Queenstown Trail:
The Trail boasts over 120km of trails set against gorgeous New Zealand scenery, linking Queenstown, Arrowtown, and the Gibbston Valley. The network gives visitors the opportunity to experience some of the most magical areas of New Zealand at their leisure. For more details on planning your trip and how to get started, check out the maps and popular ride options on the Queenstown Trail website.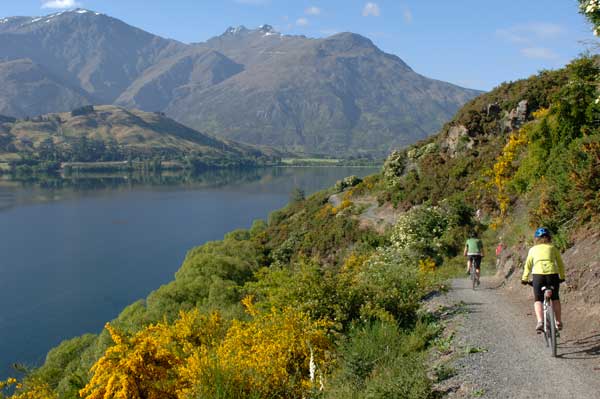 Cycling on Lake Hayes: Photo Credit: Queenstown Cycle Trail
Skill level required:
You won't need any specialized training to head out on the Trail. Experienced cyclists can push themselves to the limit and take part in the Trail's more advanced tracks, but there are also plenty of great easy and intermediate rides for amateurs to tackle and enjoy. Whether you're travelling on your own, or with your family or friends, the Queenstown Trail has something for your skill level and preferences. If you're not too fond of cycling uphill, try starting in Arrowtown or the Gibbston Valley, as leaving from Queenstown will involve inclines.
It's also best to use a good quality mountain bike while using the Trail network. While most of the Queenstown Trail is relatively easy to cycle, a mountain bike will be more suited to the conditions than other types of bikes and will provide you with a safer, more comfortable ride.
What you'll see:
Cycling is the perfect way to see the iconic towns that make up this breathtaking area. Stopping in the main towns is a real treat. Queenstown offers visitors a virtually never-ending selection of things to do and see, and is particularly well-known for adventure activities. Try a bungee jump or a jet boat ride if you want to test your nerves.
Arrowtown was once a gold mining town and is historically significant to New Zealand. The area is an especially relaxing place to take a walk or have lunch with your loved ones.
If you're a wine lover, you're in luck: the Trail also weaves its way to Gibbston Valley, which is renowned for its wine. Plan a relaxing afternoon for sampling local varieties, and you'll see why.
Why you should do it:
New Zealand's South Island is particularly known for its beauty. There are few better ways to admire this beauty than from a bicycle – the incredible, ever-changing scenery on the Trail makes cycling the optimal choice if you'd like to see as much of it as you can.
Additionally, it's authentic. Instead of only seeing the parts of New Zealand made famous by documentaries and magazine articles, get a glimpse into local life by visiting lesser-known areas and seeing a side of New Zealand that you might otherwise miss. When you're planning your trip, make a note of local cafés or restaurants to visit, and you'll be able to experience real southern hospitality, New Zealand style.
Hidden secrets:
The best part of exploring on your own instead of as part of a tour group is finding new and exciting places that others don't know about. The Queenstown Trail is full of such hidden secrets: if you visit in spring or autumn, for example, you may be treated to a picturesque view of the mist above the Kawarau River, while The Edgar Suspension Bridge, in Arrowtown, will provide you with the opportunity for incredible panoramic photographs.
When you book a rental vehicle with the Omega Rental Cars Queenstown branch, you'll have easy access to whichever part of the Queenstown Trail you'd like to start on, as well as convenient transport for your own gear if you plan to use your own bike. Whether you attempt to tackle the whole Trail on your South Island holiday or you pick a few key areas to explore, the Queenstown Trail will surely leave you with plenty of fond memories and an eagerness to return as soon as you possibly can!